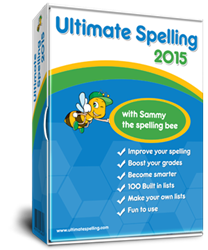 Spelling is part memorization, and part critical thinking.
New York City, NY (PRWEB) April 17, 2015
Spelling tutor software Ultimate Spelling brings up a hotly debated issue regarding the most failsafe way to teach English spelling. Several approaches to spelling mastery are discussed on this site, and in this latest post the Ultimate Spelling™ editor concludes that a blended approach is most efficient: one which teaches phonological awareness along with explicit morphological knowledge.
The editor emphasizes that the only way to achieve spelling mastery is, "patience, practice, and a lot of energy. . . Spelling is part memorization, and part critical thinking." The editor argues that memorization alone cannot provide a complete knowledge of spelling. Students might correctly guess the spelling of certain words, but without explicit knowledge of spelling rules and morphological patterns, they cannot achieve a high level of orthographical efficiency.
Another point highlighted in this post is that the methodology of invented spelling (the "guesswork" approach sometimes recommended for figuring out a word's spelling) is not 100% reliable. In this approach, the speller only relies on existing phonological and spelling knowledge in order to decode the spelling of an unknown word. That's why this method needs to be supported by memorization of tricky or commonly misspelled words.
Ultimate Spelling™'s editor emphasizes that spelling is a human invention. People originally came up with the written representation of oral language, and people continue to change how that representation is expressed. English in particular is a language influenced by several other languages, and it is constantly evolving. As the editor notes, this underlines how important it is to combine solid spelling strategies with memorization, phonological awareness, and explicit learning of morphological rules.
To be able to say "I spell well" necessitates a lot of smart and strategic spelling practice, ideally with a spelling program. To achieve English spelling mastery it's essential to have a comprehensive exposure to the rules, patterns, exceptions, and intricacies that make up English, the editor concludes.
eReflect encourages both native and non-native learners of English to put due emphasis on learning how to spell, as it is a significant component of written English proficiency.
***********
For more information about how Ultimate Spelling software can improve spelling performance for you and your family, please visit the official website at http://www.ultimatespelling.com.
About Ultimate Spelling™
Ultimate Spelling provides a modern and easy to use spelling software that has been designed with one goal in mind – making children want to learn.
It is a fast and easy way to master even the most complicated spelling, without the need to write long lists or complete boring tests.
In fact, Ultimate Spelling provides more than just spelling help. It is a complete educational resource that boosts all level of a child's literacy.
Containing a personal computer tutor, Ultimate Spelling is the most realistic step-by-step guide to flawless spelling ability.