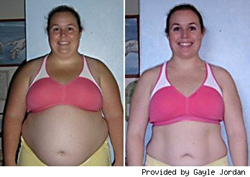 Real Diet Doc patient testimonials include Bobbi, who shed an amazing 80 pounds in only 4 months!!
Los Angeles, CA (PRWEB) April 14, 2015
Diet Doc continues to celebrate their patient's quick weight loss success. Many who have struggled a lifetime to lose embarrassing excess fat are enjoying their newfound freedom of the burden of beer bellies, thunder thighs and muffin tops. Puyallup, WA resident, Bobbi W's story began later in life, where many women find their bodies changing. Her clothes were fitting more snuggly and ripples of fat began appearing in the most difficult to lose areas. After exhausting every fad diet and weight loss gimmick and gadget on the market, Bobbi turned to Diet Doc. Beginning her journey at 220 pounds, Bobbi lost 80 pounds in just four months. Bobbi states that "The results were life changing. I feel more energetic and confidant. I lost 80 pounds in 4 months and my body fat is now 21.8%. I was not hungry. I actually enjoyed all the foods I ate. I was able to change some of my bad eating habits…giving up soda, refined sugar, and processed foods! I have been "off" of the Diet Doc diet plan for four months and have not regained any weight. This diet works because it teaches you how to eat right. I have recommended this diet to friends and family and I will keep recommending it because it works!"
Diet Doc continues to help people in all regions of the country safely, quickly and comfortably reduce their weight and return to better health, while also teaching them how to avoid weight regain to manage their new healthier and slimmer body long term. Because their diet plans are supervised throughout by a staff of doctors who are not primary care physicians, but doctors who have received special education in the art and science of safe and quick weight loss, as well as nurses, coaches and nutritional experts, their patients continue to report amazing weight loss success. Built on a foundation of honesty, reliability, safety and effectiveness, the company has become a leader in the weight loss industry.
Unlike many quick weight loss programs, Diet Doc works closely with each patient throughout their entire journey. Their doctors spend time reviewing each patient's system to identify issues that may have been overlooked in the past. Hormonal imbalances, cellular toxicity and sluggish organs are considered before developing the best method of safe and quick weight loss. Patients work closely with nutritional experts to create meal and snack plans that appeal to each patient's personal taste, age, gender, nutritional needs, medical conditions and lifestyle. Prescription diet products are incorporated for those who may have trouble overcoming carbohydrate cravings that work flawlessly with the meal and snack plans to target fat that has become comfortably and dangerously nestled in the cells and around the internal organs. The staff continuously monitors each patient's progress and is available to offer suggestions, answer questions or simply to lend their support, guidance and encouragement via phone or email.
Diet Doc takes personal reward in making a positive influence and a positive difference in their patient's lives and celebrate each patient's success. Patients, who have struggled unsuccessfully to lose excess fat are encouraged to join Bobbi and the thousands of other Diet Doc patients who have found safe and quick weight loss success with the country's most reliable and trusted weight loss source.
About the Company:
Diet Doc Weight Loss is the nation's leader in medical, weight loss offering a full line of prescription medication, doctor, nurse and nutritional coaching support. For over a decade, Diet Doc has produced a sophisticated, doctor designed weight loss program that addresses each individual specific health need to promote fast, safe and long term weight loss.
Diet Doc Contact Information:
Providing care across the USA
Headquarters:
San Diego, CA
(888) 934-4451
Info(at)DietDoc(dot)info
http://www.dietdoc.com
Twitter: https://twitter.com/DietDocMedical
Facebook: DietDocMedicalWeightLoss
Linkedin: https://www.linkedin.com/company/diet-doc-weight-loss?trk=biz-brand-tree-co-logo