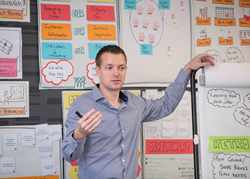 Anyone who plans to follow a long-term career as a ScrumMaster or a coach should not miss the Advanced ScrumMaster course. The material, exercises, feedback, insight and structure were outstanding
Birmingham, England (PRWEB UK) 15 April 2015
This unique two-day workshop has been designed and developed by Scrum experts and authors Paul Goddard and Geoff Watts to explore and develop the skills necessary to become a highly effective Scrum Master, facilitator. No other trainers in the UK offer this course or over 25 years of coaching experience.
Building upon the core Scrum framework, this course will move attendees more towards a professional and practitioner level, allowing them to realise more of the untapped potential their teams and organisations.
Paul and Geoff have drawn on all of their experiences coaching teams and mentoring ScrumMasters to create a highly interactive learning experience that promises to share best practice, explore real life problems, and practical techniques to take away and apply immediately.
This workshop will cover, among other topics:

How to build the engagement, motivation and productivity of your agile team
How to coach product owners, project managers and others for buy-in
Techniques to energise your sprint planning sessions and retrospectives
How to deal with difficult situations as a ScrumMaster
How to increase the creative capacity of your Scrum team
This course is also eligible for Professional Development Units (PDUs) and Scrum Educational Units (SEUs).
This course will be taking place in Birmingham, England on 17th & 18th June 2015. Seats are limited. To book a seat now or for more information visit:
https://inspectandadapt.com/course-ticket/advanced-scrummaster-training/
About Geoff Watts
Geoff is an experienced and passionate leadership coach who works with bold, forward-thinking leaders to create engaged, creative, autonomous teams and develop a culture of reflection and empowerment. He is the author of the popular books Scrum Mastery: From Good to Great Servant-Leadership and The Coach's Casebook: Mastering the Twelve Traits That Trap Us. Find out more at http://inspectandadapt.com/.
About Paul Goddard
Paul Goddard is an agile coach with experience of working with several scrum teams and projects, and is a keen practitioner and trainer of scrum and agile delivery. He specialises in helping teams to think creatively and use the Scrum framework to increase innovation and imagination. Find out more at http://www.agilify.co.uk/.