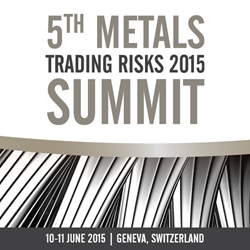 It's an IRN Summit!
London (PRWEB UK) 13 April 2015
The Commodity Trading sector has experienced tremendous regulatory change in recent years and metals trading companies have been and are still being severely affected. EMIR, MIFID II, the Dodd-Frank Act and FMIA are the main directives companies trading with metals should look at. There is a need to better understand the short-term and long-term impact that all these changes will have on their trading operations in Europe and outside the European Union.
Speakers at the 5th Metals Trading 2015 Summit will offer an insightful analysis of these regulations by leading presentations on MIFID II and its impact on metals trading companies and freight industry and EMIR and the Dodd Frank Act, with a special focus on the latest timeline and links between the two regulations. The expert delegation will also address FMIA's latest developments and impact on Switzerland-based metal traders and on companies outside Switzerland with a status on the eligible transactions for reporting and links and overlaps with EMIR.
The Summit will also feature detailed presentations and interactive discussions looking at price risk, hedging strategy, credit risk and trade finance, supply chain risks and currency risks, or CTRM systems selection and implementation, amongst many others, offering practical insights on risk management and risk mitigation techniques.
Over the past editions, the Summit has congregated attendees from companies such as Alcoa, ArcelorMittal, Triland, Barclays, BNP Paribas, Cargill, HSBC, J.P. Morgan, London Metal Exchange, Macquarie Bank Limited, Merrill Lynch Commodities, Mitsubishi International Corporation, Morgan Stanley, PricewaterhouseCoopers, RBS, Rio Tinto, Tokyo Commodity Exchange, Trafigura and many more.
The 5th Metals Trading Risks 2015 Summit is sponsored by Brady plc, a provider of software solutions for global commodity trading.
More information about this year's meeting, including speakers and agenda, can be found on the website: http://www.metalssummit.com