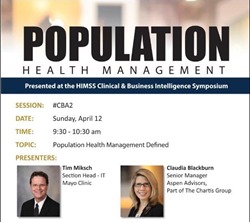 CHICAGO, IL (PRWEB) April 13, 2015
Two healthcare information technology experts from Aspen Advisors, part of The Chartis Group, will co-present two presentations at the 2015 Annual HIMSS Conference & Exhibition in Chicago, one of the largest health IT gatherings in the world, with more than 35,000 attendees. Co-presenters are from Mayo Clinic and Allina Health.
Tim Miksch, a Section Head at Mayo Clinic, and Claudia Blackburn, a Senior Manager at Aspen Advisors, discussed the critical role clinical and business intelligence plays in the paradigm shift to population health management to the Clinical and Business Intelligence Symposium, a one day series of sessions hosted in conjunction with HIMSS on April 12 from 9:30 -10:30 am. The symposium will provide attendees with practical knowledge for planning, development and execution of population health management, exploring recent advances and the future vision.
Miksch and Blackburn's session, "Population Health Management Defined," will share first-hand details about the Mayo Clinic's population health management initiatives including lessons learned, considerations and key recommendations. Attendees will walk away with strategies to identify and align the right mix of resources and program components to deliver significant value to their patients and organizations.
In another HIMSS session, Kimberly Radel, Director of the Care Copilot Institute at Allina Health, and Kathy Krypel, a Master Advisor with Aspen Advisors, bring the patient experience and patient engagement to center stage with their presentation "Patient Experience: Touching the Heart of Medicine" on April 14 from 1:00-2:00 pm. The session will highlight three innovative patient engagement initiatives implemented by Allina Health, giving participants actionable strategies from both a clinical and technological perspective.
Attendees will learn how patient experience and patient engagement are being honored and implemented at healthcare systems showcasing patient engagement initiatives at Allina Health. Clinical and technological considerations to be incorporated into patient experience and engagement when using an integrated EHR will also be discussed.
About Aspen Advisors
Aspen Advisors, part of The Chartis Group, is a top-ranked IT advisory services firm that that works with leading healthcare organizations across the country to enhance care delivery, improve community health status, and achieve market distinction through the strategic and effective use of technology. In 2014, Aspen joined The Chartis Group to bring clients leading-edge thought leadership and capabilities in strategic planning, accountable care solutions, clinical transformation and information technology. The firm has earned accolades for its culture, service delivery and growth. Aspen Advisors was named among the top 20 in Modern Healthcare's "Best Places to Work in Healthcare" in 2011, 2012, 2013 and 2014 and earned several honors from Consulting Magazine, including being named one of its "Best Firms to Work For" in 2012 and 2014 and one of the "2014 Seven Small Jewels." Aspen has consistently ranked highly in KLAS' "Best in KLAS Awards." In 2012, 2013 and 2014, Aspen was among the top three firms in KLAS' "Overall IT Services Firms Ranking." Learn more at http://www.aspenadvisors.net.
About The Chartis Group
The Chartis Group is a national advisory services firm dedicated to the healthcare industry. Chartis provides strategic planning, accountable care, clinical transformation and information technology management consulting services to the country's leading healthcare providers. Chartis has been privileged to work with over two-thirds of the academic medical centers on the U.S. News and World Report "Honor Roll of Best Hospitals," seven of the 10 largest healthcare systems, four of the five largest not-for-profit health systems, nine of the top 10 children's hospitals and many of the nation's emerging accountable care organizations. The firm is comprised of uniquely experienced senior healthcare professionals and consultants who apply a distinctive knowledge of healthcare economics, markets, clinical models and technology to help clients achieve unequaled results. The Chartis Group has offices in Boston, Chicago, New York and San Francisco. For more information, visit http://www.chartis.com.
About HIMSS
HIMSS is a global, cause-based, not-for-profit organization focused on better health through information technology (IT). HIMSS leads efforts to optimize health engagements and care outcomes using information technology. HIMSS is a cause-based, global enterprise producing health IT thought leadership, education, events, market research and media services around the world. Founded in 1961, HIMSS encompasses more than 52,000 individuals, of which more than two-thirds work in healthcare provider, governmental and not-for-profit organizations across the globe, plus over 600 corporations and 250 not-for-profit partner organizations, that share this cause. HIMSS, headquartered in Chicago, serves the global health IT community with additional offices in the United States, Europe, and Asia.