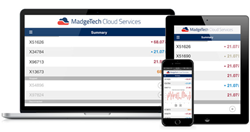 Warner, NH (PRWEB) April 13, 2015
MadgeTech Cloud Services for data logging is now just a click away! With MadgeTech wireless temperature, humidity, pressure or CO2 data loggers, enabling cloud based monitoring is a built in option that can be activated by the user at any time, making remote data monitoring live in just minutes. This service is ideal for overseeing multiple locations within a facility or even multiple facilities around the world. Instantly access live data from a mobile phone, tablet or other internet enabled device 24/7. Test drive the MadgeTech Cloud Services by taking advantage of a FREE 30 day trial!
The benefits are abundant and the MadgeTech Cloud Services platform provides a number of valuable features to streamline both logging and reviewing data.
A Dynamic Scalable Solution
The MadgeTech Cloud Services data logging platform makes it possible to monitor a single data logger or dozens of loggers from a single point. Whether a supervisor needs to access the data from one data logger or a hundred, one location or several, this service pulls all the relevant information together into one easy-to-use remote display. This provides the user with 24/7 real-time continuous monitoring, from any location and can be easily scaled to accommodate the needs of large or small companies.
Easy to set up
MadgeTech's wireless data loggers have been engineered to be "cloud ready", making it extremely quick and easy for existing wireless data logger users to set up MadgeTech Cloud Services and experience the benefits with no additional hardware. Data is transmitted from the wireless logger to the MadgeTech Data Logger Software and then instantly uploaded to the cloud for remote viewing.
The MadgeTech Cloud platform is designed to be self-serve, allowing users to increase the number of loggers that can be monitored for any account easily online.
For new users that need to purchase data loggers for continuous monitoring, visit the MadgeTech website at http://www.madgetech.com or call to speak with a MadgeTech Sales Representative at (603) 456-2011. The MadgeTech staff will be more than happy to assist in selecting the perfect device or solution for specific application needs and get things up and running in no time.
Affordable Remote Access
The MadgeTech Cloud basic service is only $10/month and provides real-time data transmission of up to 5 data loggers! (data loggers not included) Each account is upgradable to access as many data loggers as needed at an additional $10/month for each group of 5 loggers.
Custom cloud implementations are also available for facilities that need advanced features or self-hosted data options. Call to speak with a MadgeTech Sales Representative to inquire about custom cloud solutions.
MadgeTech Cloud Services Requirements

At least one MadgeTech Wireless Data Logger and Transceiver.
A PC with internet access, running the MadgeTech 4 Data Logger Software 4.2.5.0.
Data loggers operating in "real-time" recording mode.
An active MadgeTech Cloud Services account.
Note: Currently supported parameters include temperature, humidity, pressure and carbon dioxide.
Alarm activity
When things do go wrong at a facility that is processing, storing or handling sensitive materials, it's vital for supervisors to be informed of the problem at the earliest opportunity. MadgeTech's Data Logger Software sends email or text notifications when out of tolerance conditions are detected. Now, with MadgeTech Cloud Services, supervisors can instantly view the current status of the environment in question and immediately take action to head off potential damage to sensitive goods.
Convenient access to data
The major advantage of cloud technology is that data that is made available in the cloud can be securely accessed from virtually any internet connected computer or device, allowing management to check up on processes from anywhere, at any time. Better still, the system can be customized to permit access only to authorized employees or to personnel within a particular site or even restrict access so the user is only able to view the data relevant to their job responsibilities.
Data assurance
All recorded and downloaded data is automatically saved to the MadgeTech Data Logger Software internal file database for future access. To help guard against data loss if a network or power failure should occur, the data loggers will continue to save data to their internal memory and automatically upload data to the software and cloud when the power or network is restored.
Reliable support
MadgeTech does more than just sell equipment. By engineering, manufacturing and servicing all products in one facility, customers are provided with access to a technically trained support staff that will answer any questions or concerns about products, systems and cloud services.
Try MadgeTech Cloud Services for a month on us!
MadgeTech Cloud Services is available now starting at $10 per month and the first 30 days is FREE. Visit us online to sign up or learn more at http://www.madgetech.com/cloud. A valid credit card is required to establish the account but will not be charged for service during the 30 day free trial. (users may cancel at any time)
For more information, please email info(at)MadgeTech(dot)com or call our knowledgeable sales staff at (603) 456-2011 today.