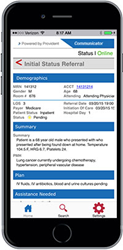 Detroit, MI (PRWEB) April 16, 2015
Provident, a leader in healthcare management consulting and compliance solutions, announces the release of DocEdge™ Communicator, a powerful and easy-to-use application to manage the Referral and Query process.
DocEdge™ Communicator allows Case Managers, Clinical Documentation Specialists, Physician Advisors and Attending Physicians to communicate easily through a HIPAA compliant web based mobile app, improving clinical documentation, CC/MCC capture rate, patient satisfaction and revenue while reducing length of stay, unnecessary resource utilization, and readmissions.
Easy to follow templates guide Case Managers and Clinical Documentation Improvement Specialists to provide accurate and concise clinical information so that Physician Advisors and attending physicians can make thoughtful and appropriate responses. With just a few taps on their mobile device the most accurate and complete documentation appears in the medical record.
"DocEdge™ Communicator allows hospitals to reduce the cost associated with increased length of stay and pay for performance metrics including healthcare acquired conditions and readmissions, while driving increased revenue related to appropriate patient status and CC/MCC capture rate," says Michael Dougherty, Founder and CEO of Provident.
Says Kathy Seward, Chief Medical Officer at Provident, "The application was designed with ease of use in mind so that Case Managers and Clinical Documentation Improvement Specialists get the information they need quickly allowing the clinical staff to spend less time answering phone calls or documenting in the medical record and more time seeing their patients."
About Provident Consulting
Provident Consulting is a leader in Healthcare Management and Compliance Solutions. We understand the diverse risks our healthcare clients face. Our proven solutions, expertise and specialized tools transcend traditional strategies and assumptions and focus on regulatory, operational and financial optimization to help clients thrive in the future of healthcare.
Provident's solutions are focused on the integrity of the clinical record to support quality patient care, manage compliance with law and regulation, secure appropriate reimbursement, and give healthcare leaders actionable clinical data to drive success.
Visit us on the web at http://www.providentedge.com