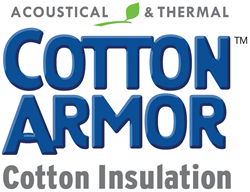 AC81 is the most comprehensive battery of tests available for cotton insulation used in construction today.
Webberville, MI (PRWEB) April 15, 2015
Applegate Insulation, Inc., a manufacturer of recycled cellulose and non-woven cotton insulation products for residential and commercial applications has, through third-party testing, successfully met the stringent criteria of AC81.
Intertek-ATI is a global, independent agency ensuring products meet quality, health, environmental, safety and social accountability standards for virtually any market around the world. Testing was conducted in accordance with AC81, Acceptance Criteria for Cotton Fiber Insulation, editorially revised October 2013.
"AC81 is the most comprehensive battery of tests available for cotton insulation used in construction today," said Terry Applegate, President of Applegate Insulation. "We have invested a significant amount of time, money and resources into achieving acceptance through independent testing with Intertek-ATI."
The scope of AC81 testing includes evaluating characteristics for: surface burning, thermal transfer, moisture absorption, fungi resistance, corrosiveness, thickness and density. In addition, the R-13 / 3.5" blanket met a 1-hour rating for interior load bearing and exterior non-load bearing walls in a fire-resistant-rated, UL Design No. U344 listing assembly.
The following products meet AC81 (product numbers shown where applicable):

R-2
R-4
R-6
R-8
R-10
R-13 (10-2000, 10-2001, 10-2002, 10-2003, 10-2017, 10-2020)
R-15 (10-2004, 10-2005, 10-2006, 10-2007, 10-2026, 10-2027)
R-19 (10-2008, 10-2009, 10-2010, 10-2011, 10-2018, 10-2021)
R-21 (10-2012, 10-2013, 10-2014, 10-2015, 10-2019, 10-2022)
R-30 (10-2024, 10-2025)
About Applegate Insulation:
Established in 1978, Aaron and his son Terry Applegate began producing insulation out of a small facility in Okemos, Michigan. Today, Applegate (headquartered in Webberville Michigan), is the largest family owned cellulose insulation producer in the world, and supplies a variety of high-performance recycled insulation products throughout the United States. Applegate currently operates facilities in Michigan, Wisconsin, Pennsylvania, Kentucky, Georgia, Louisiana, and Colorado. For additional information regarding Applegate Insulation please visit http://www.applegateinsulation.com or call 800-627-7536.