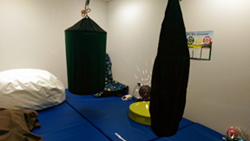 Having a built-in space for children to go when they become dysregulated really helps families with a first-hand way of seeing how to incorporate a regulatory sensory space into their own home.
Denver, Colorado (PRWEB) April 14, 2015
For some children, large rooms or other people in a room can be overwhelming for them. They may cover their ears to block out sound, or run around a room, not pay attention, scream, fall in frustration or stand aside and watch others. For these kids the STAR Center's new FlagHouse Calming Room does just that—calms them. STAR Center near Denver, Colorado provides treatment for children and their families living with sensory challenges associated with Sensory Processing Disorder (SPD), autistic spectrum disorders, attention deficit disorders (ADD and ADHD), anxiety disorders, emotional and behavioral disorders, learning disorders, and other developmental issues. STAR Center's licensed therapists treat SPD with a multidisciplinary approach, with parent coaching an integral part of managing sensory issues going forward.
Sensory Processing Disorder affects four million people in the United States. It can be a debilitating condition affecting daily activities and relationships, impairing quality of life. SPD acts like a neurological "traffic jam" that prevents certain parts of the brain from receiving the information needed to understand and respond to sensation. People with SPD misinterpret everyday sensory information, such as touch, sound and movement and it can impact daily activities that most people take for granted. For most kids, sensory processing occurs without conscious thought and these skills are automatic. But for some kids, sensory information goes into the brain but does not get organized into appropriate responses.
The FlagHouse Calming Room is a smaller space outfitted with special equipment provided by FlagHouse, a global supplier of equipment for health, special needs, special education, sensory integration, and multisensory environments. Each piece of equipment at STAR Center is specifically selected to provide vestibular, proprioceptive and other sensory inputs that help a child get regulated. The Calming Room is designed to calm a child down so they can then focus on therapy activities.
The mom of one of STAR Center's clients was more than happy to share how the Calming Room helped her son.
"The STAR Center is such a unique, supportive, wonderful place for children with SPD and their families. I am so grateful that my son was able to grow from the OT services he received at STAR. Colin is a sensory seeker of intense movement and joint input (pushing, pulling, squeezing, hugging, etc.) and he is also very sensory sensitive to noises and soft touch.
The Calming Room gave Colin a safe, enjoyable place to meet his sensory craving needs while also giving him a refuge from the noise, lights and possible touches from other children that he experienced in the larger, shared OT rooms at STAR. The room gave Colin something to look forward to when he came to the STAR center. Being motivated to continue is a very important aspect of making progress."
Elements of the new room include the Laser Stars and Solar Projector to provide a visual image on the wall that is circular in shape with different soft colors and shapes that gently move like clouds over the earth.
The TheraGym® Time-In Swing is a hanging tent that enables a child to go inside and zip it up to feel safe inside without unexpectedly being touched by someone else. The child can interact within a safe cocoon. For vestibular input, the swing can be gently rocked back and forth for a calming motion.
Some of the furnishings vibrate when they are squeezed which calms the nervous system while also exercising muscles while others provide music or white noise.
For a child that is sensory seeking and needs nonstop activity, or needs a place to work out frustrations, heavy balls can be tossed onto a big cushion or a child can jump repeatedly on the Bouncy Lily Pad.
"We are so appreciative of FlagHouse's commitment to kids with SPD," said Dr. Lucy Jane Miller, Clinical Director. "Having a built-in space for children to go when they become dysregulated really helps families with a first-hand way of seeing how to incorporate a regulatory sensory space into their own home."
About STAR Center
STAR Center, a Colorado 501(c)(3), is the premier treatment center for children and families living with Sensory Processing Disorder, feeding disorders, and other sensory conditions associated with ADHD, autism, and other developmental disorders. STAR Center offers intensive "burst" treatment that research shows is effective in treating sensory issues. Parents are involved throughout the process so families can learn to create sensory lifestyles and continue to see progress after the formal treatment program ends. Dr. Lucy Jane Miller, founder of STAR Center and Sensory Processing Disorder Foundation, is widely recognized as the leader in Sensory Processing Disorder (SPD) research worldwide. For more information about the Greenwood Village, Colorado clinic, visit http://www.SPDStar.org.
About FlagHouse
Six decades ago, FlagHouse, Inc. opened its doors in New York City's Greenwich Village to sell booster and fundraising items, including pennants and flags. Today, this family-run business has grown to become a global supplier of resources for physical activity, recreation, education and special needs, with operations in the United States and Canada. Visit http://www.flaghouse.com.