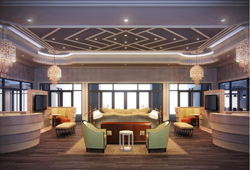 We work with clients in so many markets, and it's nice to have a couple in your own 'backyard'.
Orlando, FL (PRWEB) April 15, 2015
Award winning design firm, Beasley & Henley Interior Design is in the forefront of the latest wave of multi-family building sweeping the US. They currently have more than two- dozen projects in the SouthEast with 5 in Central Florida, 2 of which are in Orlando.
"Multi-family is hot right now," says Principal Stephanie Henley. "We work with clients in so many markets, and it's nice to have a couple in your own 'backyard'."
Beasley & Henley's current local Orlando projects are:

Aviva at Celebration Loft for Atlanta based developer, Hines. This 306-unit, 4-story Orlando area project will cater to a sophisticated clientele. The Beasley & Henley amenity spaces will feature a modern design with a nod to Art Deco décor and detailing, providing residents with the best in social interaction and entertainment.
Elan at Audubon Park for the national developer Greystar will feature 450 luxury units across 20 acres. Beasley & Henley will cater to this unique garden district area of Orlando by infusing the interiors with a mix of both modern and rustic furnishings and finishes.
"Audubon Park thrives on a modern approach with a healthy mix of earthy elements and finishes," explains Design Principal Troy Beasley of both this project and the Audubon Park environment in general.
As with all their projects, the Beasley & Henley team is creating the entire interior package for Hines and Greystar by putting together the floor plan, interior architectural details, specifications, interior design budgets and FFE. Their goal is create an attractive and functional lifestyle experience for the end user, enabling the developer to draw the best tenants and help maintain the highest rents.
If you have questions about this project or any other, please reach us in Central Florida at 407-629-7756 or at our Naples office at 239-774-1005. You can email us at Stephanie(at)BeasleyandHenley(dot)com or visit us on the web at http://www.BeasleyandHenley.com
Beasley & Henley Interior Design is a boutique design firm that believes in creating innovative and memorable interior spaces, uniquely suited to our client's needs and specific goals. With 20+years of experience in award winning multi-family projects, our industry leading team is composed of the best designers and staff, providing our clients with exceptional quality and exceeding their expectations.