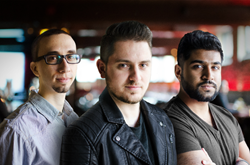 FoodShootr and Eatups are all about the new way people are connecting around food. We're proud to be a part of that and look forward to this series with Chef Papa Serra Jr. and to meeting foodies across Europe and around the world.
New York, NY (PRWEB) April 14, 2015
"Eatup Europe" (a culinary exploration and celebration of the sights, sounds, and tastes of Europe in the Spring) will coincide with the launch of FoodShootr's new social dining mobile app (iOS) and similar events in the US and Canada, and is set to kick-off April 25th in Paris, at an exclusive location, featuring a special menu created and prepared by Chef Papa Serra, Jr. (Joel Bevin).
In what is promising to be unique and entertaining experiences, each individual Eatup will focus on authentic, regional cuisine, and bringing together an eclectic mix of people from all walks of life targeting foodies, locals and the travel and tourism crowd.
The love of food and social dining experiences is something the founders of FoodShootr (based in Toronto with an office opening in New York in May) and Papa Serra Jr. know all too well and share in common. This collaboration between the two was not only an ideal fit, but it also perfectly reflects the new way people around the world are choosing to dine out, explore food and travel. Today, people (particularly millennials) are far less likely to go for the traditional restaurant scene, and are more inclined to seek out alternative, personal food experiences, in unusual settings where they can actually meet and connect with interesting people.
FoodShootr's new social dining app offers both food event organizers and people looking for interesting, unique food events and to connect with people, the ideal platform to connect with each other and, further, to share their food stories with the community – from event ticketing and marketing, to media sharing, to a listing of various food events for travelers to discover.
Bevin has amassed quite the following as a food rock star for his daring, rule-breaking spin on classic cuisine, where he both honors traditions in food while, at the same time, challenging them with unconventionality (including incorporating the flavors and techniques he acquires during his world-travels). His supper club dining events, which he hosts monthly as Head of Global Community at Eatwith, have easily become the "must attend" events in Barcelona (where he is based) for both locals and tourists.
Together, FoodShootr and Papa Serra Jr. represent the "new food culture" and Eatup Europe will reflect that in every sense. Attendees will be able to RSVP and pay for tickets through FoodShootr, in addition to socializing and sharing photos on the platform, while Bevin creates one-of-a-kind, immersive food experiences. Explains Alexander Perri (Founder and CEO of FoodShootr):
"We're very excited to be working with Chef Papa Serra Jr. on the launch of FoodShootr's "Eatup Europe" series. His love, talent and passion for creating unique, fascinating experiences through food, coupled with our passion for connecting people around the world through food (and giving them the tools to share their own food-stories), will make this food event series unlike any other. Eatups are all about the new way people are connecting around food. We're proud to be a part of that and look forward to meeting foodies across Europe."
For Bevin, bringing this food event series and his special brand of culinary skills to people across Europe is a natural step in a meteoric career that is showing no signs of slowing down (and will likely accelerate with the upcoming publication of his lifestyle cookbook "Papalosophy"). Rest assured, he has a few surprises in store for Eatup Europe attendees:
"I'm really excited to be helping launch FoodShootr and have some exciting events planned in 10 cities throughout Europe. I'll be making sure the food is rocking, the locations are exotic, and that people have a unique, one-of-a-kind experience. Sharing food is the most basic format for connecting with others and FoodShootr makes it possible with their amazing new app and food events like Eatup Europe coming to a city near you soon. Stay hungry my friends!"
Eatup Europe's scheduled cities include: Paris, Malmö (Sweden), Amsterdam, Copenhagen, London, Berlin, Madrid, Rome, Istanbul, Barcelona
To RSVP to attend the launch in Paris on Arpil 25th, or to attend Eatup Europe in any of the other cities, visit http://eatupeurope.com (#eatupeurope)
DOWNLOAD FoodShootr: http://foodshootr.com/download (iOS)
ABOUT FOODSHOOTR
Founded by Toronto-based entrepreneur, photographer and self-professed foodie Alexander Perri in 2013, FoodShootr is the only mobile-based app that offers people the complete flexibility and tools to create, promote and build a community around any type of food-related gathering anywhere in the world (from professional, ticketed events like supper clubs, popup restaurants, food festivals and tastings, to small, private affairs amongst friends). Features created especially to help food event organizers include ticketing and payments, in-app sponsor promotion, cross-platform marketing including Instagram integration, and the ability to create communities around each individual food event (Eatups). For foodies, travelers and people who are just looking for a unique, fun food experience, FoodShootr helps them to easily find food events and people to connect with globally. FoodShootr is the easiest way to bring people together over a great meal and the perfect platform for people to share their unique food-stories. Currently available on iOS (Android launching May 2015). "FoodShootr and Eatups are all about the new way people are connecting around food. We're proud to be a part of that and look forward to meeting foodies around the world." -- Alex Perri (CEO)
ABOUT PAPA SERRA, JR.
Based in Barcelona, Joel Bevin (who is also Head of Global Community at Eatwith) brings a fresh global modern approach to traditional Mediterranean flavors inspired by his weekend foraging adventures and global travels. He is acclaimed in culinary circles and in the media for not only being a talented, unconventional chef, but for his food events that draw people from all over the world. His upcoming cookbook (Papalosophy) is the culmination of his gastronomic travels and passions. His cooking style naturally incorporates a healthy lifestyle combining an obsession with vegetables and with creatures from the sea and land. In the kitchen you will find Joel cooking to dark electronic music with a long glass of homemade vermouth. His exquisite food and eccentric social dining adventures are legendary. Learn more about Chef Papa Serra, Jr. at his website: http://papaserra.com
MEDIA CONTACT
Charlie Oliver
Served Fresh Media
Email: charlie(at)servedfreshmedia(dot)net