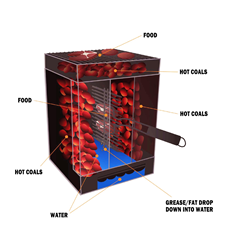 For those who love great BBQ flavor, the portable vertical grill is ideal for tailgating, camping trips and outdoor entertaining.
Toms River, New Jersey (PRWEB) April 15, 2015
The smoky taste of a great barbeque. The delicious flavor that uniquely comes from charcoal grilling. All of these things and more that make barbequing an event. And all the things that are lacking in today's healthy cooking-inspired grills. Until now.
Introducing Mike's Vertical Grill – the only grill that uses two charcoal chambers to cook meat on both sides to lock in the juice, provide real BBQ taste and cook food in half the normal time.
Looking for a healthier way to grill his favorite meats without causing carcinogens that adhere to the food on the grill, Mike Esposito came away unimpressed by existing electric grills that simply seared meat on both sides but provided no real flavor like traditional charcoal grills do. Traditional charcoal or gas grills, even the most expense, still caused flare-ups when fat hit the fire below. So he invented his own: Mike's Vertical Grill.
Utilizing innovative indirect heat technology, Mike's Vertical Grill contains two charcoal veins (a left and right chamber instead of a traditional bottom one) that simultaneously cooks meat evenly on both sides without the need for flipping the food. Meat, chicken and even fish is put into a basket with grates on both sides to hold the food in place and then flipped vertically to hook in between the two cooking chambers. In minutes, the result of the technology produces three unique benefits for grill masters and cooks of all ages:
1. Food is seared on both sides to lock in the juices and real flavor of a charcoal BBQ. "Our customers tell us all the time that our way of grilling produces the juiciest meals they've ever had on a grill without sacrificing the real BBQ taste."
2. Meats are cooked in half the time as a normal grill. Hot dogs take just 90 seconds, burgers four minutes and a London Broil – an inch and half thick – takes eight minutes. Watch the video at http://www.mikesverticalgrill.com as Mike's Vertical Grill competes against a traditional grill in a time test grilling hamburgers.
3. Fat drips down and away from the charcoal and into a water pan thus reducing the chance of carcinogens from adhering to the food. There are virtually no smoke or flare ups and the water pan makes for easy clean up afterwards.
Available in two models, the regular grill ($249) and a special order grill with rotisserie ($349), each has a standard grill surface on top, which coupled with the vertical grill more than doubles the cooking area of a traditional grill. The top grill is perfect for veggies, potatoes, corn on the cob and toasting buns.
Portable like a normal charcoal grill, Mike's Vertical Grill can easily cook for up to 30 people, making it ideal for camping, tailgating, fishing trips, parks and the back deck.
Mike's Vertical Grill is only available online at http://www.mikesverticalgrill.com or at http://www.amazon.com.
As part of a special launch promotion, new customers can save 20 percent by buying at http://www.mikesverticalgrill.com and entering "GETGRILLING" in the coupon code area of the checkout.
Editor's Note:
Media interviews and additional photographs are available by contacting Scott Carpenter at 813-210-0383 or at scott(at)nextgreatbrand(dot)com.
Cooking demonstrations by Mike Esposito and product tests are available on a case by case basis. Please email your request to Mr. Esposito at info(at)mikesverticalgrill(dot)com.
# # #