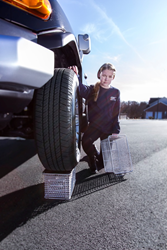 "We make the best Ultra Precision Baskets in the world," says the daughter of Austin Hunt, owner of Three M Tool. "The baskets are strong, rugged, yet smooth with large openings to ensure all types of manufactured parts are precision cleaned."
York, PA (PRWEB) April 16, 2015
German manufacturers are known for the highest-quality, precision engineering. Think Mercedes-Benz. So where does one of the largest German industrial suppliers go for a custom-made wire product? Three M Tool in York, Pennsylvania.
Amid the rolling hills of South Central Pennsylvania, home to manufacturing giants like Harley Davidson, Johnson Controls and Dentsply, Three M Tool has become a leader in fabricated wire products. Three M Tool is well-known across North America among experienced buyers for its great customer service, ingenuity, and high-quality – and now one of the leading German cleaning equipment manufacturers is turning to Three M Tool too.
Durr Ecoclean GmbH is a leading international supplier of precision industrial cleaning and automation solutions, headquartered in Filderstadt Germany with North American operations based in Wixom, MI. Durr contacted Three M Tool in 2014 to create a stainless steel basket system to use in their parts cleaning machines (see photos). The Ultra Precision Stainless Steel Cleaning Baskets are super rugged, extremely strong and yet are extremely smooth with large openings to effectively clean all types of manufactured parts. Three M Tool developed prototypes that were tested and approved. Special production equipment was designed and built. And full production has begun.
The Ultra Precision Cleaning Baskets and lids are available in standard sizes to match the metric formats, with custom sizes available. All with engaged customer service and substantially shorter lead times.
This product line will provide Durr Ecoclean and its end-users with precision cleaning of their parts. The unique, grid style allows for more flow and the welded grid body basket won't trap any solutions.
Many standard metric sizes and US inch sizes of these ultra-precision, stainless-steel cleaning baskets are available for use in precision cleaning systems manufactured by Ransohoff, Branson Ultrasonics, Blackstone-Ney, RAMCO, Cleaning Technologies Group (CTG), JenFab, Proceco, MecWash, Stoelting, and many, many others.
For more details about the stainless steel Ultra Precision Baskets from Three M Tool go to: http://www.PrecisionCleaningBasket.com
About Three M Tool: Designer and fabricator of custom wire products, Three M Tool began in 1948 as a supplier of stamping dies to local manufacturers in York, Pa. In the ensuing decades, Three M Tool expanded to include stamped metal spools, chain and cable cutters, specialized part racks, filter and machine guards, motor cycle accessories, wire mesh baskets and much more. Three M Tool proudly provides products used for a wide range of applications in industries such as Aerospace, Electronics, Automotive, Food Services, Medical, and Chain and Cable. Just a few of the notable companies who make use of our products and services include: Anheuser-Busch, Caterpillar, Frito-Lay, General Mills, Whole Foods, Chevron, Exxon-Mobile, Owens Corning, Pepsi Cola, and Procter & Gamble.
Contact Information:
Name: Tracy Yost
Company: Three M Tool
Phone: 800-309-0671
Email: Sales(at)ThreeMTool(dot)com