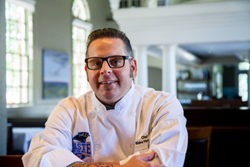 "We are honored to be hosting the James Beard Celebrity Chef Tour at Bonterra Dining & Wine Room."
Charlotte, NC (PRWEB) April 15, 2015
Executive Chef Blake Hartwick will be hosting a James Beard Celebrity Chef tour dinner at the award winning Bonterra Dining & Wine Room in Charlotte, North Carolina on May 27, 2015 at 6:30 prm. Chef Hartwick will be teaming up with some of the area's top culinary talent for an evening of spectacular food and drink with proceeds from the dinner benefitting the James Beard Foundation. The lineup includes:
Luca Annunziata
Passion 8, Charlotte, NC
Jon Fortes
The Flipside Café, Fort Mill, SC
Jay Pierce
Rock Salt, Charlotte, NC
Paul Verica
Heritage Food & Drink, Waxhaw, NC
Bryan Skelding
The Greenbrier, White Sulphur Springs, WV
"We're excited to showcase the talent of the Chef's in the area," said Chef Blake Hartwick. "I'm honored to have so much talent cooking in my kitchen and to be able to create an experience to remember."
The Celebrity Chef Tour showcases the culinary artistry of James Beard Foundation Award winners and celebrity chefs in restaurants, resorts, and other exclusive venues around the country. Like dining at the James Beard House, guests have the rare opportunity to interact with the participating chefs throughout the evening and savor specially designed tasting menus complete with wine and beverage pairings.
For more event details please visit http://www.jamesbeard.org/events/charlotte-nc or call 704.333.9463
About Bonterra Dining & Wine Room:
Bonterra Dining & Wine Room boasts an elegant, casual setting. Located in the heart of the historic Southend District near Uptown Charlotte, Bonterra is a unique establishment rich with ambience and flavor. Housed in a renovated 110-year-old church, Bonterra's interior manages to blend the original architectural features of its historic building tastefully with modern additions. The staff of Bonterra invite you to experience a sophisticated dining experience with exquisite entrees, delicious desserts and the best, most diverse selection of wines available under one roof; featuring over 200 wines by the glass and another 300 from the private cellar. Bonterra was selected as one of the country's 'Hot New Wine Bars' by Wine Spectator Magazine and has received the AAA Four Diamond Award & DiRoNA Award of Excellence.