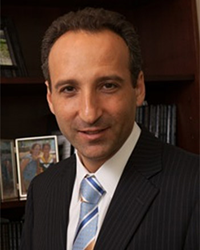 Newburgh, New York (PRWEB) April 14, 2015
Dr. Ran Y. Rubinstein, one of New York's top facial plastic surgeons, has introduced a new laser to his practice that effectively treats unsightly stretch marks. This laser is called the Palomar ICON Aesthetic System and affords patients of Dr. Rubinstein several new treatments.
One of the premier fractional lasers featured in this new system is the Palomar Lux 1540. This laser was the first to be approved by the FDA to treat stretch marks and remains the only fractional laser to hold this approval. The FDA extensively tested the laser to ensure its effectiveness before giving it their stamp of approval. The Palomar Lux 1540 was originally used to treat a variety of cosmetic issues such as surgical and acne scars prior to its FDA approval to treat stretch marks.
Dr. Rubinstein said the treatment is minimally invasive. As a result, patients achieve superior results with little to no downtime and little discomfort. Furthermore, he said the Palomar Lux 1540 has proven to be one of the most effective treatments available to correct stretch marks. In fact, many physicians contend that this laser is the first treatment that effectively reduces stretch marks to the satisfaction of patients. It takes about five treatments over a six-month period to achieve maximum results. The treatments are typically administered every two to six weeks.
During treatment, the Palomar Lux 1540 administers high precision microbeams that penetrates under the surface of the skin using a hand piece. It does not burn the skin, but rather heats the tissue. The microbeams provide tissue coagulation within the dermis, which then facilitates a natural healing process. New healthy tissue begins to form and replaces the damaged skin. The skin regenerates causing residual cells to be expelled. This results in smoother, softer skin without disrupting the outer layer of skin. There are also very few risks associated with the procedure.
In addition to stretch marks, the Palomar Lux 1540 also treats such skin conditions as sun damage, acne scars, traumatic scars, Melasma, skin irregularities, and skin texture and tone issues. Dr. Rubinstein said the addition of the laser is a perfect addition to his clinic's wide assortment of laser, face, and body procedures.
Patients wanting to learn more about Palomar Lux 1540 can do so during Dr. Rubinstein's Smooth from Top to Bottom event that will be held May 6 from 5:00 p.m. to 8:00 p.m. at 200 Stony Brook Ct. #2 in Newburgh. Dr. Rubinstein and his staff will feature live demonstrations of various treatments. Additionally, those attending the event will receive $100 off all procedures, which makes this an even greater opportunity for patients to try new treatments.
Dr. Rubinstein is an active member of the American Society for Laser Medicine & Surgery, and is double board certified by the American Board of Otolaryngology-Head and Neck Surgery and the American Board of Facial Plastic Surgery. He is a graduate of the Albert Einstein College of Medicine and completed his residency at the University of Michigan. Dr. Rubinstein's expertise and background have earned him the reputation as on of the top cosmetic surgeons in New York.
More information about Dr. Rubinstein can be found at http://www.yourfacemd.com.
Laser & Cosmetic Surgery Specialists, PC
200 Stony Brook Ct #2
Newburgh, NY 12550
845-863-1772