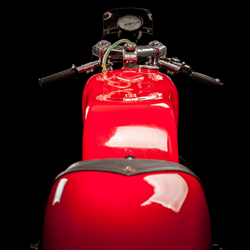 Can a pretty Italian motorbike be accepted under the banner of art? "Yes!" says Shepherd. "Push the boundaries! Break the rules!"
South of London (PRWEB UK) 21 April 2015
MotoGalleria http://www.motogalleria.com know that today's motorcyclist is no longer the long haired, leather-clad troublemaker, lusting after the big brash Harley, but a clean-cut middle class metrosexual with a longing for retro, stylish and individual machines, one he may not ride too often yet longs to own and look at every day. To help satisfy those cravings MotoGalleria are offering some of Italy's most beautiful and sexy classics, the ultimate names in retro motorcycling like MV Agusta, Ducati and Moto Guzzi. Petite,chic and sleek, built with a passion for the aesthetic combined with functionality, MotoGalleria's stunning bikes capture the "art in engineering" of a golden era and its development into beautiful forms that today more than ever excite and engage with a new and appreciative audience.
The gallery dares Metro Man to be different and look beyond what is perceived as traditional by bringing a colourful and unique piece of 'living sculpture' into their apartment, office, man cave - anywhere it can be displayed, appreciated and adored and then ridden into battle with style and aplomb. Is there space for a well groomed Italian motorbike in Metro Man's busy life? "Yes!" says Shepherd. "Show your individuality. Push the boundaries! Break the rules!"
MotoGalleria is, coincidentally, spliced onto the side of BBC's Top Gear studio and just 35 miles south of London on an old Second World War airfield where all 30 or so bikes can be safely test ridden on the private runway. They are also available for hire as film props, as is the aerodrome for film shoots.