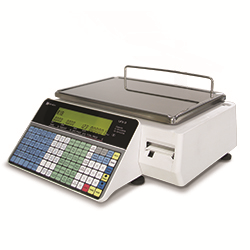 Rice Lake, Wis. (PRWEB) April 14, 2015
Rice Lake Weighing Systems is proud to announce the addition of Ishida Uni-3 to its Rice Lake Retail Solutions extensive line of retail products. With premium-class presets, quick print speed and added labeling functions, the Uni-3 provides user flexibility with enhanced features—all for less cost than comparable price computing scales with printers.
The Uni-3 is available in three models with two display types and matching customer display. The Uni-3 L1 features a vibrant blue alphanumeric display with sharp 16-segment capability and the Uni-3 L2 model features a clear LCD display with an alphanumeric display line and an additional numeric-only display line. Optional product management software provides easy file maintenance as well as PLU and tare weight consistency. Ethernet or optional wireless communication enables any Uni-3 to be added to existing networks, ensuring constant enterprise control. Flexible preset buttons for PLUs, container tare values, label formats, images and logos increase user efficiency. For more information regarding Rice Lake Retail Solutions' Uni-3, visit http://www.ricelakeretail.com/Uni3.
From simple price-computing scales, to point-of-sale systems and fully automatic wrapping equipment, Ishida® is one of the world's largest providers of retail weighing solutions. Rice Lake Weighing Systems extends Ishida's tradition of excellence to the United States retail markets. Together they forge a partnership that combines more than 150 years of experience delivering high-quality weighing solutions.