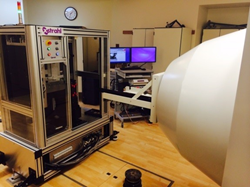 Atlanta, Georgia (PRWEB UK) 14 April 2015
University of Washington (UW) has purchased an Xstrahl Life Sciences SARRP platform and is integrating it with their Pre-Clinical Proton Therapy Facility.
This major collaborative innovation between UW and Xstrahl is something never attempted before. Bringing together these two treatment research platforms creates a truly unique facility that opens up many research opportunities to test and better understand the action of protons on tumors and normal tissue relative to x-rays.
Xstrahl's small animal radiation research platform (SARRP) and its sophisticated imaging guidance and monitoring systems ideally complements the UW's energy modulated 50.5 MeV Proton research platform that is able to produce proton beams down to 0.5 millimeter diameter. Operators are now able to easily conduct pre-clinical research based on Proton irradiation, x-ray irradiation or the combined modality irradiation of research subjects with unparalleled precision (200 µm) guided by the SARRP's ultra-fast and fine resolution CT imaging.
The SARRP features a high power x-ray tube and variable collimator on a 360 x 360 degree platform. The dual focus collimator with divergent jaws, allows the researchers to accurately target a variety of tumor types without being limited to fixed field sizes. The dual focus minimizes scatter and creates a sharp beam edge. The Muriplan treatment planning system, provided with the SARRP is the fastest small animal treatment planning system available, calculating treatment parameters in less than 4 seconds. Its fast algorithm allows isodose distributions and graphical DVH displays to be calculated during the procedure. This remarkable feature allows treatment plans to be calculated "on the fly" eliminating possibility of setup inaccuracies when calculated remotely from the research subject.
Adrian Treverton, COO of Xstrahl Life Sciences, states "This collaboration is exciting on multiple levels. Proton Therapy is now becoming much more accessible to patients. Mirroring our thinking behind the SARRP, this facility allows researchers to test therapies that are available in the clinic within a preclinical setting but also allows testing of clinical protocols not yet tried. We are delighted to be working in partnership with the multidisciplinary team at University of Washington, one of the leading cancer treatment centres in the USA. UW's experience in Proton research and PET imaging combined with their advanced radiobiology group, make them an excellent partner. Dr Eric Ford, Associate Professor in Medical Physics and Director of this unique facility was one of the early pioneers of the SARRP research platform during his tenure at Johns Hopkins University. It is great to be collaborating with him once more, on this exciting new project."
Dr Nina Mayr, Professor and the Chair of the Department of Radiation Oncology at the University of Washington, states "This exciting new facility will provide a broad spectrum of re-searchers and clinicians at UW, Seattle Cancer Care Alliance, Fred Hutchison Cancer Center, Seattle Children's Hospital and other affiliates a powerful tool to push forward the boundaries of our knowledge regarding the effects of multimodality therapeutic radiation on patients. It will allow exploration of many physical, molecular and genetic determinates of response to proton irradiation. Knowledge not only of tumor radiation response but also normal tissue radiation response and immune response will be gleaned. A whole vista of cutting edge research possibilities has been opened to us with this new Proton-X-ray SARRP and the potential future use of its MuriPET and MuriGlo functional imaging systems. We are overjoyed to be working with Xstrahl to bring this unique facility to University of Washington."
Dr George Sandison, Professor and Vice Chair for Medical Physics states, "The Proton-Xray SARRP facility is led by Dr. Eric Ford, a superb researcher and collaborator. Under his leadership we expect interested investigators from around the world to be openly accommodated in the use of this facility. There are studies already underway at this facility including Monte Carlo treatment planning and optimization studies, and DNA double strand break and lesion cluster analysis. We have many research projects planned including microvascular damage studies following hypofractionated therapy, inherently adaptive spatiotemporal optimization based on biological models of response and both acute and chronic PET functional imaging analysis assessment of response. We are even considering introducing the availability of Fast Neutron sub-millimeter beams for studies of radiobiological effectiveness. This is a capability since we generate the 50.5 MeV protons from a cyclotron that is also used to produce Fast Neutron clinical beams for patients treated in our department."
About Xstrahl Life Sciences
Xstrahl Life Sciences are leading scientific discovery to achieve a future where every patient receives patient centred healthcare. Xstrahl are collaborating with leading research groups to develop imaging and dose delivery research systems. These systems are enabling researchers to better understand the effect of targeted radiation. Therefore enhancing understanding of how radiation interacts with tissue, the mechanisms of DNA repair and ultimately how radiation can be used in the most effective way to improve patient centred healthcare. For more information, please visit http://www.xstrahl.com/life-sciences