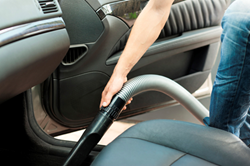 LINCOLN, R.I. (PRWEB) April 13, 2015
Severe winter weather can take a toll on your vehicle, making it less reliable. That's why Amica Insurance is sharing five tips as part of National Car Care Month.
Amica suggests the following to prepare your vehicle for spring:

Wash the car. The salt used to de-ice roads is damaging to the outer body, but it does the most harm to the undercarriage.
Check the fluids. Winter driving forces the car to work harder, using more fluids than during any other season.
Check the tire pressure. According to Safercar.gov, you can save as much as 11 cents per gallon on fuel when the tires are properly inflated. It will also lead to improved traction.
Vacuum the car mats. This could reduce seasonal allergies brought on by mud, slush and snow that are tracked into the car each winter.
Listen for any grinding, chattering or other noises coming from the vehicle. Consult a certified technician if there are any issues.
About Amica Insurance
Amica Mutual Insurance Co., the nation's oldest mutual insurer of automobiles, was founded in 1907. The company, based in Lincoln, Rhode Island, is a national writer of auto, home, marine and umbrella insurance. Life coverage is available through Amica Life Insurance Company, a wholly owned subsidiary. Amica employs more than 3,400 people in 44 offices across the country. For more information, visit Amica.com.
CONTACT: Vince Burks, Corporate Communications, 50 Amica Way, Lincoln, RI 02865-1155, 800-652-6422, ext. 24563
Twitter: Amica
Facebook: Amica Mutual Insurance Co.