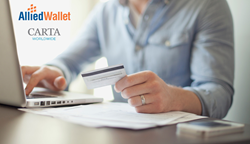 Carta's platform will allow us to streamline the process of affiliate payouts worldwide
London, United Kingdom (PRWEB) April 14, 2015
In a move towards eliminating cheques and streamlining online payment processing, Allied Wallet has partnered their state-of-the-art solutions with next-generation transaction technology provider Carta Worldwide to enhance their latest line of prepaid products.
A global leader in customized online payment solutions for businesses, Allied Wallet has attracted a user base of over 125 million. As a principal member of MasterCard, Allied Wallet is a licensed issuer and has selected Carta Worldwide to develop programs that allow corporations to easily send and receive payments.
"People feel secure with Allied Wallet, and we're innovating towards an all-inclusive payments solution. We want to handle currency from A to Z," said Andy Khawaja, CEO at Allied Wallet. He affirmed,"Carta's platform will allow us to streamline the process of affiliate payouts worldwide."
After performing extensive evaluations of the processing technologies available in North America, Europe and beyond, Allied Wallet concluded that Carta's next-generation platform was their optimum choice. Carta's ability to collaborate with Allied Wallet and build cutting-edge mobile technology opens a world of advanced payment solutions to seamlessly introduce in the future.
Allied Wallet's upcoming commercial and consumer prepaid programs will leverage Carta Worldwide's breakthrough transaction solutions for cheque replacement and the convenient business-to-business and business-to-affiliate payouts. Equipped with chip-and-pin technology, their latest card programs will allow corporations to securely and efficiently transfer payments to clients, contractors, agents, vendors, distributors, and affiliates.
Brian Semkiw, Carta's CEO commented, "Allied Wallet is constantly refining and innovating their products to adapt to the evolving payment processing ecosystem. Our technology-driven transaction solutions can uniquely facilitate the growth of their programs, services and merchant reach." He added, "With our leading mobile payment platform, Allied Wallet is in a great position to move into even more scalable product and user expansion."
About Allied Wallet
Allied Wallet is a global leader in online credit card processing / payment processing, multi-currency merchant services, digital eWallet solutions, software development, and a provider of a PCI Level 1 payment gateway. Allied Wallet continues to revolutionize the e-commerce industry by introducing new and innovative payment processing solutions for online merchants, enabling them to send and receive international payments. With PCI-compliant merchant services for nearly any business size, Allied Wallet provides a state-of-the-art payment gateway to optimize online transactions for any company.
https://www.alliedwallet.com
About Carta Worldwide
Carta Worldwide offers breakthrough transaction solutions enabling Banks, Mobile Network Operators, Merchants, Program Managers & OEMs to leap forward in their transaction initiatives. Their next-generation technology stack is engineered for the digital and emerging transaction ecosystem. This open architecture enables unparalleled capability for development, deployment and management of world leading transaction solutions. As an award-winning leader, Carta is at the forefront of the development of next-generation mobile payment technologies such as Host Card Emulation (HCE), Cloud-Based Secure Element and advanced Tokenization.
http://www.cartaworldwide.com