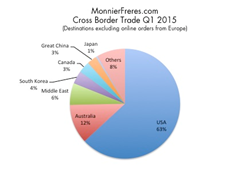 Seattle, WA (PRWEB) April 13, 2015
The Paris-headquartered online luxury retailer, Monnier Freres, announced today the company has selected Borderlinx to head as the company's international e-commerce partner.
Founded in 2010 by brothers Jean and Guillaume Monnier, Monnierfreres.com was created with the vision to deliver the ultimate online destination dedicated exclusively to accessories. Believing that elegance can be achieved by all women, the company selectively curates styles to suit different tastes. Monnierfreres.com offers a unique experience with a selection of more than 150 designers, including Bottega Veneta, Gucci, Jimmy Choo, Marc Jacobs, Versace and more.
"We're focused on taking our growth strategy to the next level, so we knew Borderlinx would be our ideal partner," stated Jean Monnier, co-founder, Monnier Freres. "Implementing Borderlinx's global solution into our overall growth strategy will help us meet and exceed our international business goals."
Over the first quarter of 2015, the top 5 destinations were USA (63%), Australia (12%), Middle East (6%), South Korea (4%) and Greater China (3%).
"The cross border trend tied up with the Euro weakness makes buying luxury items from Europe a real opportunity for brands. The performance in the USA (63% of the total volume shipped cross border in Q1) demonstrates that US shoppers seem to enjoy a curated collection from Paris, as long the user experience is as good as a domestic one," stated Jérôme Mercier, CEO, Borderlinx.
Uncertainty with true cost is the first barrier to cross border e-commerce, a common issue Borderlinx is focused on defeating. With Borderlinx, handling orders from around the globe is simplified. Consumers can trust they are paying the Landed Cost at checkout, including all import taxes and duties, while retailers enjoy the benefits of expanding their reach without the troubles of dealing with customs regulations, as well as complex logistics.
Monnier Freres selected Borderlinx to handle the company's international business to achieve the following:

Provide an improved experience to consumers
Expand their e-commerce platform globally with a centralized warehouse in Paris
Create better engagement with their consumers
Focus on their product curation and marketing, while successfully tackling with the challenges of selling globally
For more information about Borderlinx and the company's global e-commerce solution, please visit solutions.borderlinx.com
About Borderlinx
Through its global e-commerce solutions, Borderlinx offers retailers the freedom to reach international customers simply and effectively. Using the global shipping expertise Borderlinx brings, e-commerce professionals can break down barriers to their cross-border growth. Retailers can also tackle the challenges of going global, reaching new markets with an expert partner. For more information about Borderlinx, please visit the company's website at solutions.borderlinx.com