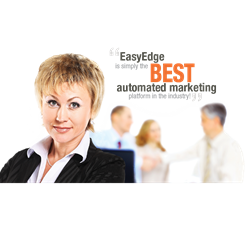 Bountiful, Utah (PRWEB) April 14, 2015
Top real estate firms across the country want to be known in their markets for offering industry-leading marketing programs and the technology and tools that agents need to be successful. Now, several firms are taking it a step further by offering an automated marketing technology for every agent. One of the largest providers of automated marketing in the Real Estate industry is Obeo. Obeo has been a leader in real estate marketing since 2000. Obeo's platform is called EasyEdge, and includes an auto generated content marketing package consisting of a property website, Youtube video, brochures, eflyers and more. As an added bonus for agents, the marketing system includes mobile text codes and a branded mobile app, both amazing lead generation tools.
Obeo just announced several new EasyEdge marketing partnerships. One of those, Centre Realty Group of Massachusetts is offering EasyEdge automation on every listing. Furthermore, every agent at Centre Realty Group also receives a significant discount on Obeo's professional photography and videography services. It was also announced that Liberty Realty of New Jersey offers the EasyEdge automated marketing platform and discounted photography and videography to all of their agents.
According to Grant Bigler, Obeo's VP of Sales, "These top brokers believe their agents are most productive in the field, actively working with buyers and sellers. By automating the marketing process, brokers are giving their agents more time to do what they do best, and ultimately creating a more profitable business model. Agents no longer need to manually create brochures, upload photos into multiple platforms, or even update marketing content with price or status changes. EasyEdge will do it all."
The automated marketing trend is certainly not limited to the East Coast. Obeo announced two new West Coast partnerships as well. Today Sotheby's International of Northern California and Strategic One of Los Angeles are both not only offering their agents EasyEdge marketing automation, they are including professional photography on every listing.
Mike Haugen, President of Obeo Inc. explained that, "These brokers believe that great marketing starts with professional photography, and they are providing this service for their agents. Studies have proven that listings with professional photography sell for more money because they have a higher perceived value. By paying for the Real Estate Photography Services, brokers can be sure that every listing they market will have professional photos, will have a higher perceived value in the market, and will likely sell for more money. It's a win win for both the broker and the homeowner!"
About Obeo
As a leading innovator and provider of real estate marketing technology in North America, Obeo offers strategic solutions to real estate professionals looking to stand out from the rest. World class professional photography, videography and high tech automated marketing solutions for brokers, real estate agents, builders, mortgage firms and more.
Obeo's EasyEdge automated and integrated marketing technology has become the industry standard for brokers who want their agents to be more productive. Agents are more successful when they do what they do best; list, show and sell. Top brokers know that, and that's why they let Obeo automate the marketing. Top brokers also know that consistent top quality lead generation is essential to growing their business, and Obeo provides the best lead generator in the industry.