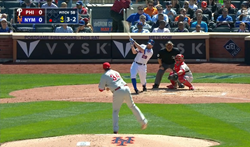 San Antonio, TX (PRWEB) April 14, 2015
On Opening Day, San Antonio based Vysk Communications announced it has signed a sponsorship deal with the New York Mets for the 2015 season. This partnership will feature prominent placement of the Vysk logo on the right field wall. Additionally, Vysk will offer promotional contests so its customers can enjoy America's pastime in person at Citi Field.
"As a kid who grew up in New York, the Mets have a special place in my heart. I fondly remember working as a shoeshine boy in order to make enough money so I could buy general admission tickets to Shea and root for my favorite team," said Co-founder and CEO of Vysk Communications, Victor Cocchia. "Now, with this partnership between Vysk Communications and the New York Mets, it almost feels as if I have come full circle."
Through this partnership with the New York Mets, Vysk's logo will be featured prominently on the home plate rotational sign, Vysk will provide mobile charging stations for fans to use throughout Citi Field, and most importantly, Vysk will be the proud sponsor of all Mets pitchers, honoring their 1-2-3 innings by calling them "Vysk Lockdown Innings."
"With our logo prominently displayed in the outfield, and our Lockdown innings a celebration of Mets pitching, I hope this will serve as a reminder for Mets fans that no one should take their personal privacy lightly," added Cocchia. "Every year millions of people with have their personal cell phones hacked, most of the time without even knowing it happens. Vysk ensures that you are a victim of cybercrime no longer."
###
Vysk Communications is a market leader and manufacturer of private secure communications solutions. Founded in 2012, Vysk's mission is to redefine, and restore, privacy in the digital age. Vysk's combination of encrypted hardware with encrypted software delivers the ultimate in privacy solutions to all markets, from enterprise to retail. Headquartered in San Antonio, Texas, with its R&D and engineering arm in San Francisco, California, Vysk holds more than a dozen patents related to encryption, privacy and security.
Victor Cocchia is Co-founder and Chief Executive Officer of Vysk Communications, a San Antonio, TX/San Francisco, CA based company developing the most evolutionary privacy technology on the market. Victor is an Army veteran and attended Columbia University.