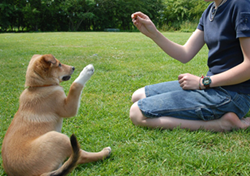 "We decided to add dog training to Park Cities Pet Sitter's service offerings about three years ago, and it is one of the best decisions we could have made." Joette White, President of Park Cities Pet Sitter
Dallas, TX (PRWEB) April 13, 2015
Park Cities Pet Sitter is offering a 5-week "Training and Enrichment" Group Dog Training class starting Saturday, April 18th at 10am. The classes will be held outdoors in the southwest portion of Glencoe Park, which is located at 3700 Glencoe Street in Dallas. The classes will run for five consecutive weeks, with a maximum of eight dogs allowed in the class. Cost for the class is $135.
In this rewards-based class, dogs will work on practical skills such as learning to pay attention when told, walking nicely on a leash, learning how to "settle" on a mat on command, coming when called, staying, and more. Dogs and handlers will also learn fun enrichment activities to do with their dogs, such as "nose" games, simple trick training, and some basic agility.
Dogs participating in the class must be at least five months of age and able to safely work with their handlers in the presence of other dogs. This class would benefit any dog as a basic training course, would be ideal for owners wanting to improve communication with their dog, and for handlers wanting to learn fun ways to enrich their relationship with their dog.
Park Cities Pet Sitter President, Joette White, offers numerous Group Dog Training classes each year, as well as Individual One-on-One private sessions for dogs and owners that require more focused instruction: "We decided to add dog training to Park Cities Pet Sitter's service offerings about three years ago, and it is one of the best decisions we could have made. We had regularly been asked for referrals to dog trainers by our clients for years, but we were not always sure what trainer in the Dallas area would be best for each individual situation. Since deciding to offer dog training ourselves, we have carefully screened numerous trainers until we assembled the fantastic group we have today. Each of our trainers brings a unique background and skill set to the company, and we love being able to match up the best dog trainer for each of our clients' specific needs."
Park Cities Pet Sitter's "Training and Enrichment" Group Dog Training class will be taught by trainer, Ann Allums, CPDT-KA. In addition to dog training, Ms. Allums also works for the US Dog Agility organization. Prior to that, Ms. Allums worked for the Association of Professional Dog Trainers and developed their CLASS curriculum of "Canine Life and Social Skills." Like all of Park Cities Pet Sitter's trainers, Ms. Allums teaches using positive reinforcement techniques.
Those interested in signing up for the classes must come prepared for being outdoors, and wear closed-toe shoes for safety. It is also recommended that dog owners bring a six-foot leash and lots of small, tasty treats for their dog. No flexi leads, chain leads, prong or shock collars are allowed.
Park Cities Pet Sitter, Inc. has served the Dallas area 7 days a week, 365 days a year since 1992. Pet sitting, daily dog walks, pet taxis, overnight sitting, pet supply shopping, litter box cleaning and dog training are all part of the services PCPSI offers. Park Cities Pet Sitter is bonded and insured, and all sitters are employees--not independent contractors. A manager is on-call 24 hours a day to handle any emergencies. Additional information about Park Cities Pet Sitter can be found on their website at http://www.pcpsi.com.