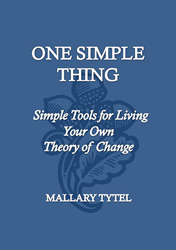 "One Simple Thing is a great resource for guiding you through your own process and finding your own path." –Christi Olson, Ph.D., Stanford University, National Accelerator Laboratory
Apache Junction, AZ (PRWEB) April 15, 2015
Change can be daunting, whether it's about changing health habits, career, the dynamics of relationships, or the world. One Simple Thing: Simple Tools for Living Your Own Theory of Change by Dr. Mallary Tytel creates a simple framework to help individuals take charge of and manage change for themselves. This book empowers readers to create the conditions for self-reflection, learning, personal change, and influencing the world.
All it takes is doing One Simple Thing every day.
Through an engaging, reader-centered process, One Simple Thing provides a valuable set of Simple Tools and an uncomplicated approach to creating and managing transformation. In clear, easy-to-understand prose that's supported by real-life stories, Dr. Tytel offers clear examples that help hone in on one's own values and beliefs. By developing an individualized Theory of Change, anyone can see how even the smallest changes can lead to big results.
One Simple Thing can indeed change everything.
About the Author:
Dr. Mallary Tytel is president of Healthy Workplaces, a national practice that focuses on complexity, human systems, and facilitating change. She is the former CEO of an international nonprofit, a certified executive coach and mediator, a consultant and facilitator, and co-founder of the Simple Rules Foundation. Her passion focuses on developing capacity and mentoring tomorrow's leaders. One Simple Thing is her fourth book. For more information or to contact the author, please visit http://www.healthyworkplaces.com.
One Simple Thing: Simple Tools for Living Your Own Theory of Change
ISBN: 9780982111277
CATEGORY: Education/Professional Development
FORMAT: 6" x 9" paperback
SRP: $24.95
###