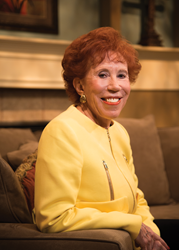 Greenwood Village, CO (PRWEB) April 15, 2015
On April 17th, Dr. Marilyn Hickey will be awarded the Freda Lindsay Award from Christ for the Nations, Dallas, Texas for her over 59 years of work in ministry, worldwide evangelism, discipleship, and humanitarian outreach.
The Freda Lindsay Award is given each year to a Christian Minister who exemplifies the attribute, passion, and remarkable achievements similar to those of Freda Lindsay co-founder and long-time president of Christ for the Nations Institute in Dallas, Texas. Others recipients of this award include Dr. Sandra Kennedy, Judy Radachy, and Gloria Copeland.
In the letter from Christ for the Nations, informing Dr. Hickey of her selection by the committee to receive this award she was praised with the following: "Having watched the hand of the Lord upon you through the years in television ministry, worldwide evangelism, and discipleship…you have touched the world as did Mom Lindsay…You have overcome many obstacles to establish and maintain the ministry God has called you to. You have done this with grace and with an uncompromising standard of integrity."
For more information about Marilyn Hickey, visit http://www.marilynandsarah.org/about/
###
About Dr. Marilyn Hickey:
Dr. Marilyn Hickey is a dedicated Bible teacher who has been spreading the Word for over 59 years in over 128 different countries and has held more than 40 international meetings and 56 group tours. Her television program, Today with Marilyn and Sarah, is broadcast in more than 130 countries.
About Marilyn Hickey Ministries:
Marilyn Hickey Ministries is sending a clear message of love, hope and healing to people around the world through Bible teaching, international healing meetings, group ministry tours, pastors' and leaders' conferences, humanitarian efforts, and the daily television program, Today with Marilyn and Sarah. For more information about Marilyn Hickey Ministries, visit http://www.marilynandsarah.org/
Contact:
303.729.1233
juanav(at)mhmin(dot)org