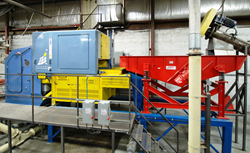 Quebec City, Qc, CANADA (PRWEB) April 13, 2015
Recyc RPM, a major post-consumer plastic recycler, has permanently closed its two facilities in Beauceville and Saint-Damien-de-Buckland, Quebec. Perfection Industrial Sales, in conjunction with Infinity Asset Solutions and Federal Equipment, have been appointed to conduct two (2) auction sales, completely liquidating both facilities.
Recyc RPM was the oldest post-consumable recycling company in Quebec, Canada, and had employed over ninety (90) employees before closing operations in 2014. In-fact, Recyc RPM was the first company in Quebec to establish curbside recycling carts in the 1980's and 1990's – far ahead of most other provinces and states – by incorporating innovative European technology. Now, due to numerous costs and industry changes, Recyc RPM has ceased operations.
The first auction sale – which will be held live on-site at the Beauceville facility and simultaneously webcast online - will be held on Tuesday, April 28, 2015 at 10 am EST and will include assets from both Recyc RPM locations. The second auction will occur on Tuesday, May 5 at 1 pm as an online only event.
An inspection for assets in both sales will be held on Monday, April 27, 9:00 am to 4 pm EST at the two locations or by appointment.
There will be over one-thousand (1000) lots offered between the two auctions. Items to be auctioned include a vast amount of plastics recycling related equipment, featuring late model shredders; extruders; pelletizers; granulators; optical sorters; stainless steel wash lines; bulk material handling; forklifts; rolling stock; tool room; plant support; spare parts; and much more.
The Beauceville, Quebec plant is located at 202 12th Avenue. The Saint Damien de Buckland, Quebec sale is at 59 Commercial Street.
PERFECTION INDUSTRIAL SALES has been buying, selling and remarketing used assets since 1963. Over the years, PERFECTION has steadily increased sales and services by assisting customers to meet and exceed used asset goals. PERFECTION INDUSTRIAL SALES is able to create custom-tailored, flexible and proven strategies for projects both big and small. They provide detailed, viable, results-driven solutions – just as they have done successfully for thousands of clients in the past.
For further information, please contact John Bopp at 1-708-606-3240 or john@perfectionindustrial.com or, visit http://www.perfectionmachinery.com.