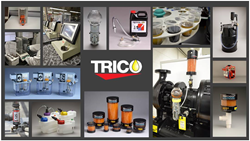 The continued success of the Spectrum brand is proof that maintaining a system of lubrication management best practices is a bottom line cost reduction plan in its
Pewaukee, WI (PRWEB) April 14, 2015
Storage and handling of industrial lubricants changed for good back in 2013 when Trico Corporation launched its Spectrum Oil Containers as part of its Spectrum system of products. Trico had been a re-seller of another brand of oil container products, and decided to create a container that further exceeded the expectations of the modern maintainer.
The Trico Spectrum Oil Containers sales have grown over the last 2 years by offering a more ergonomic design, which maintainers have mentioned they found easier to handle and carry in their plant.
The Spectrum brand is a family of products designed to make lubrication management principals and best practices easy to implement in a maintainers routine.
The system includes:
Containers – A system of three different sizes of 2, 3, or 4 gallons. Three pouring lids with either ¼", ½", or 1" spout which are sealed when closed. The lids and vent come in a ten different colors.
Charts – A legend for the wall that shows each color and which fluid the color represents, this provides the basis for a system which maintainers use to put the correct lubricant in machinery every time.
Tags – These color coded tags use the chart and choice of ten different colors to tag equipment.
Bands and Collars – These allow you to continue the coding to the Opto-Matic oiler and grease gun applications.
Grease caps – Color coding grease applications is a best practice.
Trico is a lubrication management organization which has a full line of products that assists plant maintainers in many varieties of industries from military, aerospace, food, energy, pharmaceutical, mining, and others. Trico products can be found globally via distributors in 180 countries. Trico also offers lubrication management training where companies can learn the proper methodology for maintaining critical rotating equipment using lubricants. Trico also operates the leading commercial oil analysis laboratory at its Pewaukee, WI location.
The full Trico offering includes:
Services Products

Training and Mentoring
In-Plant Services
Oil Analysis Services
Lubrication Management Solutions
Storage, Handling & Identification
Contamination Control
Oil Sampling
Lubrication & Re-lubrication
Grease Lubrication
Visual Inspection
Central Lubrication
Metalworking
Lab Instrumentation
# # #
If you would like more information about this topic, please contact Rudy McCormick at 262-229-7707 or email at rmccormick(at)tricocorp(dot)com