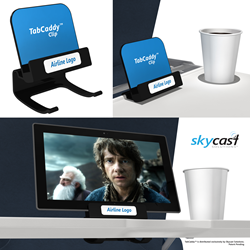 "For the price of a beer, airlines can sell passengers a high value and reusable tablet holder." - Bill Boyer, Skycast Solutions CEO
HAMBURG, GERMANY (PRWEB) April 13, 2015
Skycast Solutions, a leader in portable inflight entertainment and airline tablet holder solutions, today announced at the Aircraft Interiors EXPO that it has developed a very low cost tablet holder solution for inflight use. The "TabCaddyClip™" is custom designed to attach securely to various airline meal trays and provide passengers a convenient way to store and view their personal electronic device (PED). The removable 'Clip' is designed to accommodate all sizes of tablets and features an innovative hinge to allow the passenger to adjust viewing angles. The offering provides airlines the lowest cost option to accommodate the flood of PEDs being brought onboard by their passengers.
"Sometimes the best solution is the simplest solution," said Bill Boyer, CEO of Skycast Solutions. "The Clip is perfect for airlines that are looking for a new source of onboard retail sales or an innovative advertising give-away. For the price of a beer, airlines can sell passengers a high value and reusable tablet holder."
The clip requires no certification or other tests required of permanently installed solutions. If purchased, the passenger can re-use the Clip on future flights.
"We listened to airlines who asked us for a quick, easy and inexpensive way to accommodate tablets," said Greg Latimer, President of Skycast Solutions. "The Clip also provides airlines a transition product for those that are looking at our suite of installed TabCaddy products."
The Clip provides two surfaces for airline branding or advertising sales but is highly customizable for each airline based on their tray and branding requirements.
About Skycast Solutions
Skycast Solutions was founded by Bill Boyer, inventor of the digEplayer. Boyer and a team of aviation veterans are the developers of the seat centric and portable TrayVu™ offerings. Skycast is also the exclusive distributor of the TabCaddy™ product line. Skycast Solutions is dedicated to provide airlines with low-cost/high impact innovations.