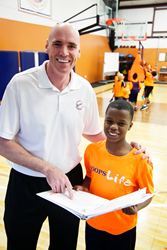 This program has been really a life changing experience for my son and I. What I didn't realize was that my son would be learning more than just basketball skills.
Tavares, FL (PRWEB) April 15, 2015
HOOPS scholarship fund has teamed up with Vann Gannaway Chevrolet in creating an exciting opportunity in Lake County Florida with the "Corvette Stingray Half Court Shot Event". This scholarship fund raiser supports local at risk youth in the Mount Dora, Umatilla,Tavares, Leesburg, Clermont, and Eustis areas. Only 500 chances are being sold for $100.00 each to help local youth. Five winners will be chosen on April 17, 2015 and will receive $1000.00 each. Then during one of the HOOPS Life basketball games on April 25, 2015, one of those lucky 5 winners will be chosen to shoot a half court shot for an opportunity to win a... 2015 Corvette Stingray!
Pat Burke, former Orlando Magic and Phoenix Suns NBA player and six time European champion is the co-creator of the HOOPS Life program. Pat is a resident of Lake County and has taken a champion's approach in assisting and supporting local youth. HOOPS Life is having a big impact with the youth in our community.
To be involved or to purchase your chance please contact HOOPS at 352-253-4667 or visit their website at http://www.hoopspatburke.com. Event benefits the 501(c)3 HOOPS scholarship Fund.
YOUTH SUMMER PROGRAMS are also big at HOOPS!
This summer children will be enrolled in the most exciting basketball programs in the State of Florida. HOOPS Pat Burke's Training Facility in Tavares provides programs for all levels of basketball players. HOOPS summer programs are comprised of day camps and the HOOPS Elite advantage program. The HOOPS Elite participants will be guaranteed individual attention with our professional staff to help them reach their next level. HOOPS summer camps are fun, educational, and a challenging place to develop a child's basketball skills, whether they are a beginner or looking to compete and achieve their next level!
Call now for your future! You don't want to miss this!
Contact Hoops today at 352-253-4667 or visit our website at http://www.HoopsPatBurke.com