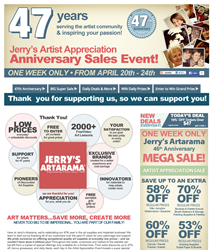 Jerry's 47th Anniversary Artist Appreciation Event is our special way of thanking all of our sponsors and fans for supporting us over the last, great 47 years of business.
(PRWEB) April 14, 2015
Jerry's Artarama, a pioneer in discount art supplies, has been providing artists with fine art materials with great deals and savings since 1968. Family owned and operated, Jerry's prides itself on putting the needs of the artist first, whether through lowering prices on art supplies, scouring the globe for new and innovative products, offering promos, coupons and free shipping, or hosting a score of free artist resources including educational videos, art and trade shows, social community groups, an entertaining and informational blog and even art school scholarships.
"Jerry's 47th Anniversary Artist Appreciation Event is our special way of thanking all of our sponsors and fans for supporting us over the last, great 47 years of business," said Michael Marchetta, Director of Marketing for Jerry's Artarama.
To celebrate this special 47th Anniversary, Jerry's Artarama will be hosting an online Artist Appreciation event from April 20th-April 24th, 2015. All throughout the week, customers and visitors to the website can benefit from a variety of special offerings only available for a limited time on the largest selection of art supplies at the best value. This year, Jerry's is also proud to introduce the Gerald Goldstein Foundation, which will offer academic scholarships to art students. Sponsors for the event include industry leaders Artist Magazine, Prismacolor, Ampersand, Artograph, Creative Mark, Winsor & Newton, Strathmore, Speedball, LUKAS, Turner, Daler Rowney, Richeson, SoHo Urban Artist and Silver Brush.
Jerry's will also be offering daily prizes to two lucky winners every day. Winners chosen from email subscribers and customer lists will be rewarded with an egift card for $50 and a free gift with a unique Grand prize offered as well. At the end of the week, the Anniversary Event culminates with one lucky winner receiving an all-expenses paid trip for two to attend two free educational art workshops at the Art of the Carolinas Tradeshow in Raleigh NC, taking place November 13th-15th this year. The winner will also receive hundreds of dollars in free art supplies from Jerry's Artarama and two $50 credits to be used at Art Bar in Raleigh. Art Bar is a new division of Jerry's Artarama that kicked off with great success in the beautiful city of Raleigh to provide artists, and those looking to get started in art, with a world class facility and programs.
All artists interested in learning more about Jerry's Artarama, it's history or unique, discount art supplies and materials are invited to celebrate its 47th anniversary by taking advantage of the Artist Appreciation Event and enter the Grand Prize drawing by subscribing to their emails. Jerry's Artarama Online Superstore also offers lots of free content, videos, giveaways and sales events.
About Jerry's Artarama:
Jerry's Artarama is a national retailer of arts materials and supplies headquartered in Raleigh, N.C., with 16 physical locations throughout the United States and an online store. Jerry Goldstein opened the first Jerry's Artarama in Long Island, N.Y., in 1968 with the goal of offering quality discount-priced products to established artists. Jerry believed in treating customers like family, a tradition that still continues. Today, Jerry's offers more than 70,000 top-quality art materials at direct savings — as much as 75 percent off traditional retail on products from the industry's leading art manufacturers, as well as Jerry's own exclusive product lines via the online retail store, art supply catalog and Jerry's Artarama Superstores. In addition, Jerry's Artarama serves as an artist resource by offering instructional workshops, new art supply demos and special art-related events, including the Art of the Carolinas Tradeshow, an annual event held in Raleigh. For more information, visit http://www.jerrysartarama.com.
For more information:
http://www.jerrysartarama.com/promotions/2015/47-anniversary/index.html
Website:
http://www.jerrysartarama.com
Contact:
Michael Marchetta
919-878-6782