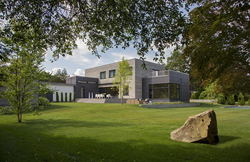 We're thrilled to see our modern design recognized by the Historical Society
Lexington, MA (PRWEB) April 14, 2015
ZeroEnergy Design, a green architecture firm, received the Bechtel 2015 Excellence in Design Award for the firm's Lexington Residence, a new modern home. Presented at the Lexington Historical Society Annual Meeting, the award was created in honor of Rick Bechtel and his legacy as a local architect of the built environment of Lexington, Massachusetts.
The Award recognizes projects (historic or otherwise), and their owners and designers, for completed works located in the Town of Lexington for the best practices in design and construction respecting and contributing to the architectural fabric and integrity of the neighborhood in which the project is situated as well as to the Town of Lexington as a whole.
With the neighborhood reaching back as far as the Lexington Minute Men of the Revolutionary War, the Lexington Residence provides a bridge to a modern way of life. The site previously included a carriage house belonging to the neighboring brick colonial home. The existing brick walls and mature plantings at the perimeter of the property were maintained. The progressive home is carefully scaled and set back from the street to complement the existing neighborhood and sited so as to create homeowner privacy while capturing the southern sun in the side yard. The terraced grade rises to meet the house, allowing for it to maintain a structured connection with the ground.
Aside from its striking aesthetic, the clean, functional family home provides an array of features including long term visitor accommodations, accessibility when needed, 85% less energy consumption than a new code built home, healthy indoor air for the entire family, durable low maintenance finishes, resilient back-up systems, and a strong visual and physical connection to the outdoors.
"Our design efforts focused on respecting the neighborhood context while achieving the homeowner's progressive goals. We're thrilled to see our modern design recognized by the Historical Society," said Stephanie Horowitz of ZeroEnergy Design. "Our collaborators, Soren Deniord Design Studio, on the landscape, and Aedi Construction, were integral to the project's success."
About ZeroEnergy Design:
ZeroEnergy Design creates innovative & environmentally sensible homes and buildings. The team of architecture, engineering, and business professionals takes a calculated, multidisciplinary approach to modern green design. The consistent result is a beautiful, high-performance home or building that holistically matches the owner's lifestyle, aesthetic desires, and environmental ideologies.