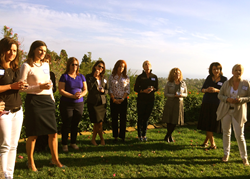 The evening was truly amazing
San Diego, CA (PRWEB) April 15, 2015
A neighboring La Jolla-based business, Callan Capital, recently selected Lajollacooks4u for an elegant and interactive cooking experience that resulted in an evening of friendly bonding and lifetime connections.
Daniella Boni, Marketing Director for the wealth management firm, Callan Capital, contacted Chef Jodi in search of unique event for the female clients of Callan Capital. Elegant invitations were drawn up, inviting the Callan Capital ladies for a 'Taste of Tuscany' event on the evening of March 18th.
The evening began with Chef Jodi welcoming the ladies into her beautiful garden for refreshments and a gourmet olive oil and salt tasting. A secret ingredient was added to the olive oil and salt tasting and the ladies were encouraged to mingle as they worked together to identify the special addition.
The women then participated in hands-on cooking, learning new culinary techniques and acquiring the latest kitchen tips, all while creating fresh and unforgettable Italian recipes. Once the menu was completed, the women were invited into Chef Jodi's dining room where they were able to enjoy the fruits of their labor.
Their Tuscan menu began with an Antipasti selection of Focaccia with Roasted Tomato Sauce, a Fresh Burrata and Roasted Been Salad with Mixed Greens Drizzled in a Citrus Vinaigrette and paired with a 2010 King Estates Pinot Grigio. The ladies then moved on to the Primi and Secondi courses. The first was an Herb-Crusted Salmon with a Caper Vinaigrette, paired with a 2010 Raina Umbria Rosso, and the second was a Grilled Flank Steak draped with Pesto, paired with a 2012 Josh Cabernet Sauvignon. Sides included Roasted Broccolini with Pine Nuts and a Wild Mushroom Rarro Risotto. Topping off the tasteful list of Italian cuisine, the women nibbled on Pears Blanched in Wine with a Pecan Crumble for dessert.
As the night wound down, several women approached Chef Jodi to express their appreciation over the connections and relationships that blossomed from one elegant night of cooking and eating. The group unanimously agreed that Chef Jodi's authentic Italian recipes exceeded expectations. "The evening was truly amazing," said Katie Attebery, one of the evening's coordinators and participants. Attebery added that Lajollacooks4u definitely wowed all of Callan Capital's clients.
Everyone walked away with more than just their complimentary goodie bags. Daniella Boni, Callan Capital's Marketing Director and event planner, said that Callan Capital was 'a happy client' and would undoubtedly be returning to Lajollacooks4u again.
Callan Capital is a financial planning and asset management firm providing solutions for the complex financial needs of families, executives, entrepreneurs, endowments and foundations. Built on core values of integrity, respect, community and work-life balance, Callan's team is experienced, dynamic, credentialed, and committed to providing outstanding service. Callan Capital works in unison with their clients' team of trusted advisors to ensure a well-rounded experience with investment, tax, insurance and legal matters. As a family owned business held to a fiduciary standard, Callan Capital brings clarity, direction, and discipline to the financial choices you make everyday.
Lajollacooks4u, founded in 2008, provides an ideal activity for corporate team building, couples and any foodie looking for a unique cooking and culinary experience in a magnificent setting overlooking the Pacific Ocean. Based in La Jolla, a suburb of San Diego, CA, Lajollacooks4u has enjoyed record growth since its inception and has been ranked the number one attraction in La Jolla on the popular travel review site, Trip Advisor. For more information, contact Jodi Abel at jodi(at)lajollacooks4u(dot)com or phone 1-858-752-4980