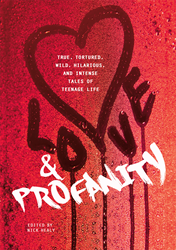 Winner and top five finalists will be published in upcoming eBook edition of Love & Profanity plus prize of $250 for first place and $100 for finalists
Minneapolis, Minn (PRWEB) April 15, 2015
Switch Press, the new young adult imprint from Capstone, announces the launch of the "Tell Your True Story" teenage writing contest housed on Wattpad, the world's largest community of readers and writers.
The contest runs from April 15 to June 15 and is open worldwide to writers, ages 13 to 19, at http://www.wattpad.com/101207715-tell-your-true-story-writing-contest-contest.
The "Tell Your True Story" contest is connected to the just-released Switch Press book Love & Profanity: True, Tortured, Wild, Hilarious, and Intense Tales of Teenage Life, a collection of micro-memoirs from more than 40 authors.
"We want to give young writers a chance to tell their own stories," said Nick Healy, editor of Love & Profanity. "The stories in our book illuminate moments of impact in the lives of 43 terrific writers, and we know readers will be reminded of stories from their lives and inspired to share them. That's why we've created this contest with Wattpad, an amazing community for people who love stories and a perfect platform for teen writers to share their true stories."
The winner and top five finalists of the "Tell Your True Story" writing contest will have their stories published in an upcoming enhanced eBook edition of Love & Profanity, plus a prize of $250 for first place and $100 for finalists.
Contest submissions must be an anecdote or short story of an unforgettable memory or flashback of a real teen experience experienced by the entrant. The submission must be in English and no more than 2,000 words. All elements in the story must be an original work solely created by the participant and never before posted on Wattpad.
To submit their stories, teens must post their work on their own Wattpad account and tag it with #MyLoveandProfanity.
Full rules and guidelines for the contest can be found at http://www.wattpad.com or
http://www.switchpress.com.
About Switch Press
Launched in 2014, Switch Press offers brave and dynamic books and media that reflect the lifestyles, aspirations and everyday realities of young adults. The Switch Press product line includes contemporary nonfiction and fiction in a variety of formats, genres and subjects such as graphic novels, cookbooks, craft/how-to, historical fiction, fantasy and memoir. Switch Press is a trade imprint of Capstone. http://www.switchpress.com
About Wattpad
More than 40 million people have joined Wattpad, making it the world's largest community of readers and writers. People use Wattpad to connect with each other while they discover and share millions of free stories. Wattpad stories are available in more than 50 languages and can be read or written from any phone, tablet, or computer. The company is proudly based in Toronto, Canada. Learn more at http://www.wattpad.com.