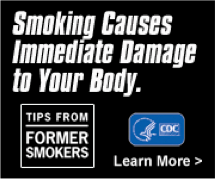 Washington, DC (PRWEB) April 13, 2015
"If you smoke, quitting is the single best thing you can do for your health and for your loved ones," said Jane L. Delgado, Ph.D., M.S., President and CEO of the National Alliance for Hispanic Health (the Alliance). "The Tips campaign offers advice from former smokers and free support from 1-800-QUIT-NOW (1-855-DÉJELO-YA) to help motivate smokers to quit, and prevent others from ever starting," added Dr. Delgado.
The Tips from Former Smokers (Tips) campaign ads feature real people such as Beatrice who at age 7 tried her first cigarette to be like her friends that smoked. Beatrice, now age 40, quit smoking and as part of the Tips campaign talks about the importance of a support system and the motivation of being healthy for her son. She tells smokers that "you are going to need support" and that she is part of Tips because "I want to offer hope to people that it is possible to join the ranks of nonsmokers."
The 2015 Spanish and English language Tips ads will run through mid-August across the country to raise awareness of the dangers of smoking and offer tips on how to quit. The ads feature former smokers and their stories that highlight smoking-related health conditions not normally associated with cigarette use, promote the benefits of quitting for loved ones, and encourage smokers to call 1-800-QUIT NOW (1-855-DÉJELO-YA) for free cessation support.
"These former smokers are helping save tens of thousands of lives by sharing their powerful stories of how smoking has affected them," said CDC Director Tom Frieden, M.D., M.P.H. According to the CDC, smoking is the leading cause of preventable death and disease in the U.S. and for every person who dies from a smoking-related disease, about 30 more suffer at least one serious illness from smoking.
The Alliance will amplify the messages in the Tips campaign through its Nuestras Voces (Our Voices) Network led by 11 regional subnetwork partners around the U.S. working to end tobacco use and the impact of cancer in Hispanic communities. Efforts will include one-on-one support for smokers as well as bilingual social media, mobile messaging, and traditional media.
According to Dr. Delgado, "The Tips campaign is a critical counter message to the $8.3 billion tobacco companies will spend this year to make cigarettes and new devices like e-cigarettes more attractive and affordable, particularly to young people like Beatrice who tried her first cigarette at age seven. Nearly 70% of smokers report they want to quit, and the Tips campaign provides resources to help." For more information visit cdc.gov/tips or call the Alliance's Su Familia Helpline at 1-866-783-2645.
###
About the Nuestras Voces Network. The Nuestras Voces (Our Voices) National Hispanic Network to Reduce Tobacco-Related and Cancer Health Disparities empowers Hispanic communities and those who serve them to eliminate tobacco and cancer control disparities. Focus areas include exposure to second-hand smoke, smoking cessation, cancer prevention, and quality of life for those living with cancer. The Network collaborates with 11 regional lead agencies to facilitate tobacco and cancer control training and technical assistance for community organizations, health care providers, businesses, and other stakeholders. This effort is funded through a multi-year cooperative agreement with the Centers for Disease Control and Prevention (CDC). For more information visit http://www.nuestrasvoces.org.
About the National Alliance for Hispanic Health. The Alliance is the nation's foremost science-based source of information and trusted non-partisan advocate for the best health outcomes for all. The Alliance represents thousands of Hispanic health providers across the nation providing services to more than 15 million each year. For more information, visit http://www.hispanichealth.org, call the Alliance's Su Familia Helpline at 1-866-783-2645, or find us on Facebook at healthyamericas or on Twitter at health4americas.