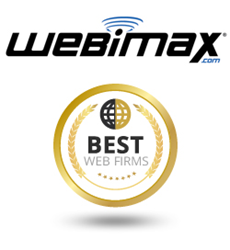 "This sort of transparency is unparalleled and virtually unheard of in the SEO and Internet marketing industry." - Bestwebfirms.com
Camden, New Jersey (PRWEB) April 14, 2015
WebiMax announces that BEST Web Firms, the #1 source for ranking and review of the best design firms, has rated WebiMax the #1 web design company in all four categories including, SEO, E-commerce, Custom and Overall Best Web Design. Best Web Firm's global team of website design and online branding professionals conducted its own competitive, thorough and independent review before reaching their conclusion.
Just in the last decade, the growth of internet connectivity combined with the rise of mobile technology has made having an efficient and user-friendly website a requirement for companies trying to stay competitive. However, in the rapidly changing world of the web, it can be a challenge for companies to find the time or resources to stay on top of the most current web design trends. In order for brand side businesses to get the greatest value, it is important for them to know which web design firms stand out among their peers.
"WebiMax is a company that knows what it means to be one of the best. Currently one of the top 100 advertising and marketing agencies in the country, WebiMax is evolving as a collection of proven SEO services with online marketing tactics that build on their own success. Clients can also watch as work is being performed on their accounts and track analytics in real time. This sort of transparency is unparalleled and virtually unheard of in the SEO and Internet marketing industry." – bestwebfirms.com
"At WebiMax it is our practice to treat those with whom we work as partners rather than clients. Mutual success is our goal and thus transparency is key in those relationships," said WebiMax CEO Ken Wisnefski. "I am proud of our team, our ethic and the quality relationships that we have built with our partners over the years, and I'm also thankful to Best Web Firms for acknowledging our team yet again – this time with the high honor of ranking number one in all four of their web design categories.
The Best Web Firms Investigative Review ranks the best web design firms based on a large number of ranking points. Positions on the Best Web Design Companies curated and ranked lists are granted to independent Web Development / Design and Marketing Agencies as a result of Best Web Firms proprietary ranking system which includes client case studies, online research, review research, related awards, traffic reviews and other SEO rankings, proprietary studies, and other ranking sources.
About WebiMax:
Driven for success, WebiMax helps its clients achieve tremendous returns via their online marketing efforts. Led by serial web entrepreneur and digital marketing expert, Ken Wisnefski, WebiMax has established itself as one of the most respected digital marketing firms worldwide. WebiMax is proud to provide solutions that positively impact clients ranging from early phase start-ups to Fortune 100 companies. With offices located in New Jersey, California, London and Sydney, WebiMax delivers results. For more information, visit us at WebiMax.com or call 1-888-932-4629