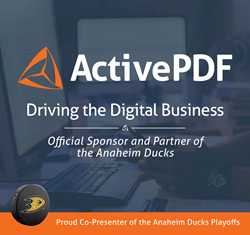 "ActivePDF has been a generous supporter of the charitable initiatives for the Anaheim Ducks and Anaheim Ducks Foundation. We look forward to many more successful years together."
Laguna Niguel, CA (PRWEB) April 14, 2015
ActivePDF, a leading provider of server-based PDF automation tools, announced today Tim Sullivan, Chief Executive Officer, extended the ActivePDF sponsorship of The Anaheim Ducks for another three years. With the Anaheim Ducks clinching the Pacific Division of the 2015 NHL playoffs, ActivePDF was named as a 2015 Pacific Division Co-Presenter of the Anaheim Ducks Playoffs.
"We are extremely pleased to extend our partnership with ActivePDF, a company that takes great pride in community involvement," said Ducks Executive Vice President/Chief Operating Officer Tim Ryan. "ActivePDF has been a generous supporter of the charitable initiatives for the Anaheim Ducks and Anaheim Ducks Foundation. We look forward to many more successful years together."
"ActivePDF is honored to be a Sponsor and Co-Presenter of such an elite team, said, Tim Sullivan. "The Ducks are on fire with over 50 wins for the second straight season and clinching the best record in the Western Conference. We are proud to cheer them on their journey to the Cup and provide continued support in upcoming years, recognizing their extraordinary hard work and dedication."
ActivePDF leverages The Anaheim Ducks sponsorship as a vehicle to support the local community. Tim Sullivan has a strong belief in giving back while aligning with the company strategy for corporate social responsibility (CSR), in maximizing support to worthy causes. There are a variety of activities ActivePDF contributes donations, most recently to the Orangewood Children's Foundation and the CHOC Children's NICU Surgery Unit. Support for local high school athletics is provided through sponsorships and fundraisers in the school districts of Saddleback Valley Unified School District and Corona-Norco Unified School District. ActivePDF is also a proud supporter of such charities as the National Foundation for Autism Research, The Alzheimer's Association, Broadway Cares and The Wounded Warriors Project.
About ActivePDF
ActivePDF is a global provider of PDF server-based tools to create, modify, convert, and view PDFs for integration within business processes, including Enterprise Content Management (ECM), Product Lifecycle Management (PLM) and Workflow solutions. The ActivePDF suite is designed to streamline large volumes of rendering and assembly of content into secure PDFs. With a market presence of over 23,000 clients within 90 countries. http://www.ActivePDF.com