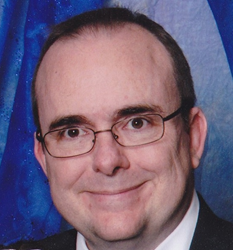 St. Louis, MO (PRWEB) April 15, 2015
The School for Professional Studies at Saint Louis University has named Joe Lyons as the new director of its Security & Strategic Intelligence (SSI) Program. The SSI program is offered as a bachelor's degree, minor or standalone certificate and is designed for working adults looking to pursue a career or enhance their skills in the growing fields of business continuity, strategic intelligence, global corporate security and law enforcement administration. In this new position, Lyons will teach courses in addition to overseeing the curriculum, hiring faculty and will be responsible for growing student enrollments.
Dr. Joe D. Lyons has been an intelligence officer with the National Geospatial Intelligence Agency (NGA) for more than 13 years, and has 26 years' experience in the US Military. In his most recent government position, he worked on professional certification for data managers at NGA. Prior civilian assignments include: Afghanistan as the site Lead to NATO HQ, a three year joint duty assignment with Special Operations Command in England, and assignment to the US Embassy Mexico. He is a 2007 recipient of the Superior Civilian Service Medal.
Dr. Lyons began his military career as a private in the United States Army in 1988. In 2002, he accepted a commission in the US Navy Reserves as an Intelligence Officer. He is currently a Lieutenant Commander, and served as the Regional NIOBC Director for the Information Dominance Corps Region Midwest, overseeing intelligence training for new officers covering a nine state region. He has held various active duty and reserve positions in both the Army and Navy, including Executive Officer, Department Head, Division Officer, Intelligence Officer, ROTC instructor, Recruiter, and Observer-Controller. He was recognized in 2013 as the Reserve Officers Association, Officer of the Year for the state of Missouri.
A native of Murray, Kentucky, Dr. Lyons received his Bachelor's degree and Masters degree from Murray State University, and his Doctorate in Public Policy Studies and Administration, from Saint Louis University, St. Louis, MO. He is a 2011 graduate of the Joint Forces Staff College, National Defense University, Norfolk, VA. He resides in St. Charles, MO.
About the School for Professional Studies at Saint Louis University
Classes in the School for Professional Studies are typically offered in accelerated eight-week sessions and are designed for busy adults with affordable tuition rates as well as convenient, online classes. SLU for Busy Adults gives working professionals the opportunity to earn their degree with flexible online and evening courses. In Saint Louis University's tradition of excellence, the School for Professional Studies caters to nontraditional students so they can pursue Bachelor's and Master's programs from globally-recognized SLU.