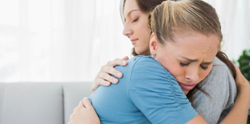 Remember that they are trying to find their way and the path to healing takes time. Don't take their inconsistent emotional responses to you personally!
New York, NY (PRWEB) April 15, 2015
Watching a friend go through the initial phases of grief can be overwhelming. Want to help them? It can be difficult to navigate through this process and know what to do and what not to do. There are no roadmaps that clearly define how to support them in the depths of their grief. The fear of saying or doing the "wrong" thing often causes avoidant behavior. Learn to override fear by staying in the moment, leaving projections behind and finding a balance between helping and intruding.
Here are 10 Do's and Don'ts to Help a Friend Who is Grieving:
Don'ts:
1. Don't compare grieving. People tend to want to connect with others through telling their own stories of woe. It may be seen as rude or self-centered to compare the supportive friend's prior grieving experience to the friend who is grieving.
2. Don't tell them to "get over it". Everyone mourns in his or her own time and this should be respected.
3. Don't suggest that they need to have different feelings. There is no wrong way to grieve. Telling a friend that they shouldn't feel a certain way can conjure up feelings of doubt and shame.
4. Don't be solution focused. Instead, just be with them. They will find their path in time.
5. Don't avoid them. Grief is not something you "catch" and the absence of a friend can feel like alienation to the grieving.
Do's:
1. Be a good listener. Sometimes a friend just needs to be heard without any "solution".
2. Help a friend memorialize the death of their loved one. Planting a tree, dedicating a plaque on their favorite park bench, or holding a candlelit vigil are some ways to memorialize a loved one.
3. Help out with the everyday chores. Ask what is needed rather than to assume the help they need. While in the throes of grief, it may be difficult for the mourning to keep up with the lawn, walking the dog, cooking, cleaning, shoveling the snow, etc. Be supportive in the little things can be a big relief.
4. Write a note or card and mail it. Yes, snail mail is an intimate way to connect to a friend who may be feeling alone and scared.
5. Understand that people change when they are dealing with loss. Nathan believes that it is important to understand the emotional imbalances that can occur when someone is in an active state of mourning: "At times their emotions may be chaotic and uncharacteristic of how you know them. Remember that they are trying to find their way and the path to healing takes time. Don't take their inconsistent emotional responses to you personally!"
About Edy Nathan:
Edy Nathan is a licensed psychotherapist with over 20 years of experience specializing in grief. For two seasons she was the therapist on the A&E TV Show, "Psychic Kids". She holds Masters from both New York University and Fordham University. She has post-graduate training from the Ackerman Institute for Family Therapy, The Gestalt Center and the Jungian Institute. She is a certified EMDR practitioner, regression therapist, certified hypnotherapist, relationship and grief expert. To find out more, visit EdyNathan.com.
For a complimentary meditation and more information about other topics related to grief, loss and trauma, please visit here.