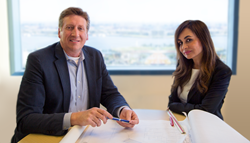 Mitra and Michael exemplify the skills required to drive the success of the company into the future and have been very instrumental in providing leadership, strong client relations, business development, professional development and management skills.
Long Beach, CA (PRWEB) April 15, 2015
Mitra Esfandiari, AIA, has contributed greatly to the firm's success since joining P+R Architects in 1994. As the managing principal of the Placemaking Studio, she consistently fosters solid client and workplace relationships, while leading project teams on significant commercial and entertainment projects. Mitra's contributions to the firm's portfolio are exhibited in her leadership on a variety of large-scale, experiential, award-winning retail destinations and mixed-use, town center developments. She is also highly regarded in entertainment design and has led acclaimed multiplex theatre projects for a variety of operators; and continues to strive for gender balance as an influencer for women in architecture.
Michael Bohn, AIA has been promoted to Senior Principal of Studio One Eleven at P+R Architects. With over 25 years of experience, ten of which with Studio One Eleven, Michael continues to coordinate design efforts – striving for innovative, context-driven, environmentally responsible projects. His focus on transit-oriented development, mixed-use urban infill, multi-family housing and urban design, Mr. Bohn continues to shape communities and make more inhabitable places for people. He has also led the establishment and development of the firm's landscape studio. His recent appointment to the Board of the Long Beach/South Bay chapter of the American Institute of Architects and involvement on the Urban Land Institute's Senior Housing Council are a reflection of Michael's commitment to the broader architectural community.