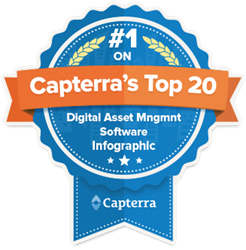 This recognition speaks to Canto's leadership role in the rapidly evolving DAM industry.
San Francisco, CA (PRWEB) April 14, 2015
Canto, a leading provider of digital asset management (DAM) solutions, today announced that the company has been named the most popular provider of DAM software in new research just released by Capterra, an online service that helps businesses find the right software. The research has been summarized by Capterra and can be found online in the infographic titled, "The Top 20 Most Popular Digital Asset Management Software Solutions."
Using its proprietary Popularity Index, Capterra determined the DAM software provider rankings through a weighted score based on the number of current customers, the number of active users and the social media reach of each solution. Capterra takes into account the social reach across a variety of channels including Facebook, Twitter, LinkedIn, Google+, Klout scores, as well as customer reviews on Capterra.com.
"Capterra believed it was time to address the growing importance of digital asset management in light of the cross-industry ubiquitous use of digital media, including images, photos and videos in marketing, advertising and branding campaigns and website design," said Michael Ortner, the CEO of Capterra. "With almost 200 DAM vendors listed in our directory, it can be difficult for companies to find the solution that best meets their needs. Capterra's new DAM research is designed to help make the search a little easier."
DAM software is designed to help organizations safely and securely manage, maintain and use their diverse digital media files. Canto, with thousands of customers worldwide, has been a frontrunner in the market since 1990.
"This recognition speaks to Canto's leadership role in the rapidly evolving DAM industry and reflects our efforts to bring successful digital asset management standards, practices and execution to organizations around the world," said Leslie Weller, director of marketing for Canto. "It's an honor to be named the number one provider of DAM solutions by Capterra, especially due to the fact that reviews from our customers -- our top priority -- played a big role in determining the number one ranking."
The complete ranking of top DAM vendors can be found on the Capterra website.
About Canto
Canto is committed to innovation, with a focus on delivering digital asset management (DAM) software and services that solve customers' ongoing brand asset challenges. Founded in 1990, Canto is a DAM industry pioneer and leader with more than 2,500 customers worldwide. Canto's offerings include its flagship enterprise-class technology, Cumulus, which allows customers to efficiently secure and repurpose brand assets, and Flight, a cloud-based solution designed to address basic DAM needs. Supported by a global partner network, Canto is based in San Francisco (USA), Berlin and Giessen (Germany). For more information visit Canto.com.