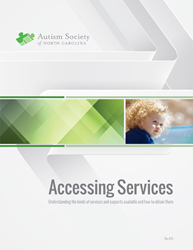 Raleigh, NC (PRWEB) April 14, 2015
The Autism Society of North Carolina (ASNC) today released a toolkit titled "Accessing Services." The free guide will teach parents and guardians of children and adults on the autism spectrum about the kinds of services and supports that may be available to them and their families in North Carolina and how to obtain them.
"Accessing Services" is the sixth toolkit in a series meant to empower parents and caregivers of individuals with Autism Spectrum Disorder (ASD). They include topics such as Individualized Education Programs (IEPs), bullying, and advocacy, and are available on the ASNC website so that anyone may read, download, and print them: http://bit.ly/ASNCtoolkits.
The toolkits were researched and written by ASNC's Autism Resource Specialists, who are themselves parents of individuals with autism and now work with families in need of support; licensed psychologists and certified analysts from ASNC's Clinical team; and leaders in ASNC's Advocacy and Services departments, who are knowledgeable about NC law and the services system.
ASNC plans to introduce more toolkits on a variety of topics in coming months.
Background:

Autism Spectrum Disorder (ASD) is a lifelong developmental disability that typically appears during the first three years of life. As many as 1 in 58 children may be diagnosed with ASD in North Carolina, according to a prevalence study by the CDC of 8-year-old schoolchildren.
For more than 45 years, the Autism Society of North Carolina has worked to address areas of need and expand services for the autism community in North Carolina. ASNC works to directly improve the lives of individuals affected by autism by providing advocacy, education, and services.
For more information, call 1-800-442-2762 or visit http://www.autismsociety-nc.org.