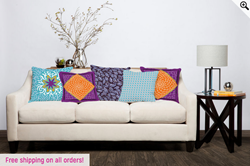 As a small business owner, not having to maintain separate image repositories for online and print use is huge.
Rochester, NY (PRWEB) April 15, 2015
Shibumi Home's founder chose the title "Chief Creative Force" for a reason. Julie Wienen launched her business with the twin objectives of engaging online buyers with customizable home goods, and of highlighting individual artists' outstanding work in textile design. Researching how to achieve this goal led Wienen and her team of Web developers at Wick Creative to LiquidPixels' LiquiFire dynamic imaging solutions. Using on-demand dynamic imaging enabled the Shibumi team to build an interactive e-commerce storefront that offers photorealistic visualization of products that are ready to be produced at the moment the shopper decides to buy. ShibumiHome.com launched in March.
With a value proposition that relies on the high-quality, original work of independent artists, it is critical for Shibumi Home to compellingly and accurately visualize each design. The finished, delivered product must be indistinguishable from its online product image. LiquiFire dynamic imaging allows Wienen to acquire fabric pattern swatches from a designer and apply them digitally to any Shibumi Home product. This eliminates prototype production and product photography costs while enabling Wienen to easily add new fabric patterns to the online catalog as they become available.
Wienen says, "Customers love what they can see. For instance, our interactive designer lets shoppers mix and match pillows on a couch; it's a big hit, and it makes it more likely that they'll purchase. Dynamic imaging really opens up the options of what you can show your customers."
Although custom product visualization was what led Wienen to discover LiquidPixels' online imaging solutions, it was LiquiFire's automated web-to-print functionality that "sealed the deal" for her. She hadn't known in advance about this capability, which can generate print-ready files on the fly from the digitally prepared images already in use online. Streamlining the asset production and maintenance in this way was a benefit whose value she recognized immediately. "As a small business owner, not having to maintain separate image repositories for online and print use is huge," Wienen says.
ShibumiHome.com is built on the Shopify e-commerce platform and since launch has been seeing almost 50% of e-commerce traffic coming from mobile sources. LiquidPixels CTO Marc Spencer observed, "What Julie and her team have created with Shibumi Home is an outstanding combination of the technological and merchandising benefits of LiquiFire dynamic imaging. She has created the kind of online shopping experience the Web was only dreaming of when we founded LiquidPixels in 2000." Spencer added, "Think about fifteen years ago: we could never have envisioned the proliferation of devices and platforms the Web supports today. But we built LiquiFire to adapt as the Web evolved. Our inherent support for responsive imaging and easy integration into our customers' varied environments has proven that LiquiFire continues to be at the cutting edge of online imaging."
ABOUT LIQUIDPIXELS, INC.
LiquidPixels is leading the imaging revolution. Built on open standards, its LiquiFire dynamic imaging solutions integrate into existing Web and workflow environments, enhancing product creation and visualization while reducing production costs. LiquidPixels makes its patented technology available as a hosted service or via on-site enterprise servers with solutions that may be tailored to each customer's unique needs.
ABOUT SHIBUMI HOME
Shibumi Home (http://www.shibumihome.com) is a convenient and fun way to shop for unique home decor. Customers create decorative pillows, table linens and more in never-before-seen patterns from up-and-coming artists. Featuring easy-care products made for real life, Shibumi Home makes it simple for savvy shoppers to create completely customized products that show off their personal style.
For more information, contact:
David K. Jones, V.P. Sales & Marketing
LiquidPixels, Inc.
866-808-4937 x307
sales(at)liquidpixels.com
Julie Wienen, Chief Creative Force
Shibumi Home
303-995-3337
julie(at)shibumihome.com