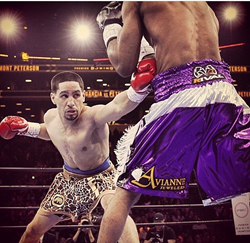 My man did his thing last night. He won in my book!
New York, NY (PRWEB) April 14, 2015
Saturday, April 11th, Brooklyn's Barclays Center was jam packed with 12,300 supporters from all around the country, gathered to witness the second Prime Boxing Champions series card on NBC, and like the first one, the fight gave their fans their money's worth. The fight was fought at a catch weight of 143 pounds, Washington D.C native, Lamont Peterson up against Philadelphia fighter, Danny Garcia.
Avianne & Co Jewelers was Peterson's official sponsor of the night. Former IBF Light Welterweight Champion took pride in wearing the company's logo while giving Garcia a steady and controlled fight.
"I don't expect an easy journey for me to get where I'm going. I feel great. That's probably the least contact I've ever had in a fight," said Peterson.
Earlier that week, Barry Hunter, respective trainer and father figure of Lamont Peterson dropped by to see the Avianne & Co team at their store front in Manhattan, NY. Started coaching when he was only 17 years old, Hunter could not be more proud of Peterson's efforts for the night.
"Mr. Garcia definitely knew he was in the fight of his life tonight. Lamont did a great job of sticking to his game plan. I couldn't have been more proud of him even if he got the decision," said Hunter.
The night was a true competition between two of the best in their division. Team Peterson looked undefeated Avianne Jewelers black and gold shirts.
"My man did his thing last night. He won in my book!" mentioned Joe Avianne, CEO of Avianne & Co Jewelers, who came to watch the fight along side celebrity jeweler, Elliot Avianne.