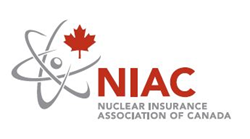 NIAC and NRI have been working together as nuclear insurance providers since the late 1950s, when these two organizations were among the first in the world to set up insurance pools
Toronto Ontario Canada (PRWEB) April 14, 2015
The Nuclear Insurance Association of Canada (NIAC), General Manager Colleen DeMerchant announced the upcoming implementation of the insurance pool's updated claims reporting system, which will be web-based. With the passage of Bill C-22 during the 2nd Session of the 41st Parliament, the liability limit of nuclear operators increases from $75 million to $650 million as it comes into force, and subsequently to $1 billion over the next three years. Facing the complexities involved in such a large increase in operator liability, NIAC announced that it would be working with its long-standing partner Nuclear Risk Insurers (NRI) on a claims system and co-insurance arrangements.
The announcement was made at NIAC's 2015 Risk Assessment Leadership Forum where nuclear power operators, Federal Government representatives, insurers and subject matter experts met to exchange ideas and to listen to keynote presentations by Dave McCauley of Natural Resources Canada (NRCan), Raphael McCalla of Ontario Power Generation (OPG), Frank Saunders from Bruce Power and Mark Popplewell from Britain's Nuclear Risk Insurers (NRI).
In an interview after the forum, DeMerchant and Popplewell said they were working together, following the signing of an MOU, to help NIAC develop and implement a comprehensive web-based claims system, supported by call and in-person capabilities for the initial reporting of claims and subsequent management and settlement. The new system will be user-ready prior to the Bill coming into force. "The complexity involved in quickly and efficiently handling possibly hundreds or even thousands of individual claims is no simple task. Even though the possibility of a nuclear incident in Canada is extremely remote and highly unlikely, a comprehensive emergency claims response infrastructure and protocol is necessary" explains DeMerchant. "So that's why we've teamed up with NRI who possess tremendous expertise in this area."
NIAC and NRI have been working together as nuclear insurance providers since the late 1950s, when these two organizations were among the first in the world to set up insurance pools, working as aggregators of capacity between operators and insurers. To accommodate the ten-fold plus increase in the liability capacity required by C-22, NIAC is working with NRI to access the world nuclear pool capacity. As well, the two organizations are sharing new ideas and expertise to ensure a smooth transition.
"Knowledge-sharing through close and open communications between ourselves, and with all of our stakeholders is something both of our organizations do well." says Popplewell. "We look forward to continuing our mutually rewarding work on projects like the NIAC claims system as well as co-insurance arrangements."
While cooperating on pool capacity and claims systems development, NIAC and NRI also provide leading-edge loss control engineering survey services to Canada's CANDU reactor operations. Statistically speaking these are among the securest providers of commercial energy production, generating approximately one fifth of all electrical energy in Canada.
###
For more information, please contact:
Colleen DeMerchant - General Manager
Nuclear Insurance Association of Canada
416-529-9656
colleen(at)niac(dot)biz
Established in 1958, NIAC is a voluntary, non-profit, unincorporated association of insurers providing property and liability insurance to nuclear installations operating in Canada. With members who include insurers, reinsurers and Lloyd's Underwriters licensed in Canada, we specialize in high quality insurance, risk management, underwriting and inspections for Canadian nuclear exposures.