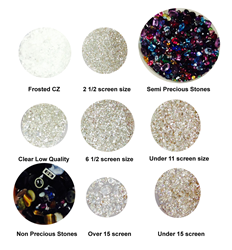 Precious metals are recovered and the return is based on actual recovery, not an estimate
Warwick, RI (PRWEB) April 16, 2015
Pease & Curren, a precious metals refiner for almost a century, introduces P&C Premium, a proprietary stone removal process that is unmatched in the precious metals industry. P&C Premium is an environmentally friendly stone removal process that delivers stones that are completely cyanide and residue free making them safer and easier for client's employees to handle.
With P&C Premium, all stones are recovered, even the smallest melee. The proprietary process ensures that no stones are left behind. Stones are recovered from gold, silver, and platinum settings and are cleaned and sorted into clear, color, and miscellaneous categories. A process is applied to clear stones to help identify the cubic zirconia (CZs). The process etches the CZs, resulting in a cloudy appearance that allows them to be easily spotted. The stones are then separated and can be sorted in up to six sizes.
All precious metals are recovered and the return is based on actual recovery, not an estimate.
"Customers always comment on the cleanliness of the stones" says Kim Michalik, President of Pease & Curren refiners. "They often say one can always tell which stones are from Pease & Curren. The stones we return to customers are ready for resale – just open the package".
In addition to the excellent quality of Pease & Curren service, we go the extra mile and offer, upon request, a free, no-obligation third-party appraisal service on all stone lots. Three appraisals are obtained from a variety of appraisers from all parts of the US assuring the best possible price for your stone lot. The stones never leave the P&C facility, and stones are only viewed under management's supervision. The facility is one of the safest in North America so client's stones are protected with us.
About Pease & Curren
With 100 years in the precious metals refining business, the Pease & Curren way is disciplined, honest, consistent, and reputable. We provide the most accurate precious metals refining available on the market today, bringing consistently higher yields to our customers, resulting in maximum returns.
Pease & Curren serves the dental, manufacturing, pawn/buyers, recycling and retail jewelry markets. P&C has superior programs including: Stone Removal, Appraisal Services, and a fire assay process that is 20 times more accurate than X-Ray refining. Our facility is one of the most secure refineries in North America and coupled with our five star customer service, we continue to serve our customers with top quality refining.