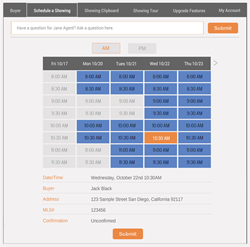 OMCAR members will be able to log on to their Showing Suite account within their MLS platform through Single Sign On and schedule showings directly in the MLS.
San Diego, CA (PRWEB) April 14, 2015
Showing Suite, Inc. is proud to announce the first Florida MLS to choose Showing Suite's free MLS integration. Ocala/Marion County Association of REALTORS® (OMCAR) will provide its members with Showing Suite's MLS showing scheduling system. Agents that subscribe to OMCAR's MLS will soon have access to the state of the art tools Showing Suite has developed for real estate agents.
"Ocala/Marion County Association of REALTORS®/Ocala MLS has a long history of providing quality real estate services to its clients. We pride ourselves in making our clients' success our top priority. Our REALTORS® are some of the best and we are always looking for opportunities to provide the best tools for them. Showing Suite's MLS solution allows us the flexibility to cater to each member while giving the functionality of a proven real estate showing system." - Gayle Lowry, 2015 MLS President
OMCAR members will be able to log on to their Showing Suite account within their MLS platform through Single Sign On and schedule showings directly in the MLS. A "Schedule a Showing" button will be on each listing.
Showing Suite provides both buyers' agents and listing agents a free account. Buyers' agents can schedule a showing right on the listing where they will have the option to create a showing tour, ask the listing agent questions, schedule more showings, re-arrange showings, and map the showing tour. In the Showing Note app agents can share all this information with their clients without printing anything. Showing Note is a free mobile app that allows buyers to access all the information their agent shares with them, and take photos, videos, and notes at each listing. Since everything is saved in one place, they don't have to worry about keeping track of each listing or try to remember everything when it comes time to make a decision. If a client likes a particular listing they can share their saved Showing Note content with fellow collaborators.
Listing agents also have free features which allow them to decide who can schedule showings on their listings and how each party will get notified. When an agent or buyer schedules a showing on their listing it can trigger an automatic showing request email that is sent to confirm the appointment or suggest a different time. Whether its the seller, buyer, listing agent or buyers' agent, these emails can be sent to any combination of parties that need confirmation for the showing.
Agents that upgrade to the full paid version of Showing Suite have access to the wide breadth of award winning systems developed specifically for real estate. In Showing Suite Ultimate, agents can gather feedback from listings with Showing Suite's Home Feedback system, coordinate their schedule with the Showing Calendar, take advantage of the built in Followup CRM system, evaluate performance with satisfaction surveys, and access everything on the go with the Showing Suite mobile app to manage showings and appointments on the go.
An enhanced showing schedule system called Showing Robot is also an option for listing agents to enable on their listings and provides a more direct means of appointment scheduling through texts and phone calls in addition to emails. Showing Robot provides the listing agent with a local phone number and serves as a built in sign rider text message marketing system for their listings. This Text2Show service ensures that buyers will be able to schedule showings right when they see the house and sign rider. Buyers can choose a time for their showing, view the mobile property flyer, and request an immediate showing by clicking the InstaShow button if they want to see the listing right away. Agents save time and money by not having to subscribe to an outside sign rider marketing system and using the one already available in their Showing Suite account.
About Ocala/Marion County Association of REALTORS®
Since 1922 the Ocala/Marion County Association of REALTORS® strives to have a beneficial influence on not only the various branches of real estate but also on its community and members. They help people realize the dream of homeownership as well as help safeguard the interests of real estate owners and professionals. OMCAR prides itself on maintaining high standards and providing a unified real estate experience as a whole. To learn more visit OMCAR.com.
About Showing Suite, Inc.
Showing Suite, Inc. develops and implements market-leading tools that allow real estate professionals to sell homes smarter and faster. Since 2001, the company has brought a suite of web-based software solutions for the real estate sector to market, including its flagship product, HomeFeedback®, as well as Home Followup, Listing Sync, Showing Sync®, ForeclosureFeedback®, and Showing Calendar®. Since inception, Showing Suite™ has helped more than 900,000 real estate professionals in the U.S. and Canada retrieve valuable feedback from potential buyers to increase home sales. To learn more visit ShowingSuite.com.
If you would like more information about this topic, please contact Michelle Costa at 858.270.1055 or email at MichelleC(at)ShowingSuite(dot)com.