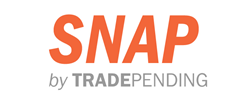 Durham, NC (PRWEB) April 15, 2015
TradePending announced the launch of SNAP, an automotive software plugin for dealerships to enhance their website interactivity and conversion through the use of real market data to show shoppers key market metrics affecting trade-in values.
The SNAP plugin was built to provide an organic, high-conversion experience for website shoppers to answer one of the most important questions in the automotive buying process, "What is my car worth?"
Features and benefits of SNAP include:

Seamless integration with existing style elements of a dealership's website to create a clean look and feel
Quick vehicle selection with modern type-ahead functionality
Reduced Vehicle Details Page abandonment by allowing visitors to complete the full process in a modal environment
Improved comprehension of what actual cash value may be by using real, local market data
High mobile conversion through the use of responsive technology
Website usability and user experience is measurably important as there is growing demand from consumers to take time and complexity out of the car buying process. Dealers have introduced new interactive elements to their sites for years to create a self-contained shopping experience. SNAP uses existing page styles to reduce any foreign appearance that may cause abandonment or unnecessary bounce rates. A "Google-like" type-ahead box is used to allow shoppers to select a vehicle in a matter of seconds increasing speed and conversions.
"Everything matters. Our goal with SNAP was to make the perfect tool. Styling. Usability. Speed. Mobile-friendly. These are not nice-to-haves today, they are essential," said Brice Englert, Founder and CEO of TradePending.
For many dealers the "market value" for vehicles is defined by a few dozen miles, not regions. SNAP references real market data within a small radius of a given zip code to determine current pricing trends. SNAP then adjusts these values based on customized variables to establish a clear range of potential Value to a Dealer.
Scott Chuhinko, Partner and VP of Sales for TradePending with over 2 decades of retail experience says, "Dealers have used market data and metrics such as demand and turn rates to make stocking and pricing decisions on trades for years. Using this data as a core piece of the buying process enables a real conversation about what the market for a vehicle truly is instead of a debate of their number vs. mine."
SNAP is available for dealers across the country and more information can be found at http://www.tradepending.com/snap. TradePending will showcase SNAP at the Digital Dealer Conference in Tampa, FL, April 21-23.
About TradePending
Founded to completely re-imagine one of the most storied shopping processes in the last century, TradePending builds tools to enable a more simple automotive buying process. Powered by real market data, TradePending is redefining the conventional methods of defining market values for vehicles.
Media inquiries can be directed to info(at)tradepending(dot)com