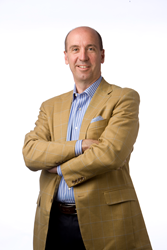 The future may be unknowable. This does not, however, imply organizations can't prepare for it.
Durham, NC (PRWEB) April 14, 2015
In his article, "Five Foreseeable Risks" futurist Jack Uldrich says, "The future may be unknowable. This does not, however, imply organizations can't prepare for it."
Uldrich travels the world working with organizations and helping them prepare for the future. Having just addressed West Kendall Baptist Hospital in Florida last week, today Uldrich will address BCBS of North Carolina in Raleigh discussing his future-proofing philosophy of "The Big AHA." AHA is Uldrich's acronym for Awareness, Humility and Action and he firmly believes leaders and workers who embrace those tenants and practice them diligently will not simply be prepared for the future--they will prosper in the future.
AHA enables insurance organizations to weather such future altering factors. Those factors include economic instability, economic disruption, digital wildfires --the spread of misleading viral information accelerating beyond control, radical life-extension--the effect of millions of octogenarians living a decade or more longer, which Uldrich says, "will be profound,"and unilateral geo-engineering proposed by some scientists in order to help cool the planet.
Healthcare and technology, however, are just one area Uldrich excels in addressing. He also specializes in keynotes and strategic planning sessions for organizations in agriculture, education, energy, finance, retail and manufacturing. His major clients include United Healthcare, the American Medical Association, Allina, as well as Wells Fargo, IBM and Lockheed Martin.
Uldrich paints vivid pictures of what the world may look like in just a few short years. He provides an in-depth exploration of how the "Internet of Things," 'Big Data," social media, robotics, biotechnology, nanotechnology, artificial intelligence, renewable energy and "collaborative consumption" will change everyday life for everyone in the very near future.
This week, following his address with BCBS of NC in Durham he will speak in Raleigh addressing the North Carolina Association of Electric Coops and then head to Green Bay to address Foth and Van Dyke.
Parties interested in learning more about him, his books, his daily blog or his speaking availability are encouraged to visit his website. Media wishing to know more about either the event or interviewing Jack as a futurist or trend expert can contact Amy Tomczyk at (651) 343.0660.