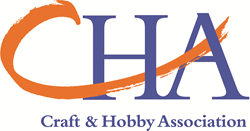 "The CHA Foundation and CRE8TIME's Kids Crafting Day at Bradley Hospital was a mutually rewarding experience. It was inspiring to see children of all ages engaged in the therapeutic benefits that a few hours of crafting brings"
Elmwood Park, New Jersey (PRWEB) April 14, 2015
In efforts to celebrate National Craft Month and the benefits of art and creative expression for mental health, the Craft & Hobby Association Foundation partnered with The Rit Studio, Craft Attitude and Michaels Stores to host a "Kids Crafting Day" on April 2, 2015 at Bradley Hospital in Riverside, Rhode Island.
During the event children attending Bradley Hospital's various inpatient and partial programs participated in creative projects as part of the CRE8TIME movement, a CHA Foundation sponsored program. CRE8TIME builds awareness for the need to devote time to and benefits of creative expression.
"We were very excited to host and collaborate with the Craft & Hobby Association Foundation as well as The Rit Studio and Craft Attitude here at Bradley Hospital" said Bradley Hospital Healing Arts Director Maegan Gubata, M.A, LMHC, ATR. "The therapeutic benefits of crafting and art making are invaluable to our patients who sometimes feel words are just not enough. Using the arts as a modality for communication is without a doubt a key asset to our patients who are challenged by mental health issues. In addition, exposing our patients to unique art materials gives them a new experience, ability to learn new techniques, and a sense of accomplishment our kids can take with them when they leave the hospital."
"The CHA Foundation and CRE8TIME's Kids Crafting Day at Bradley Hospital was a mutually rewarding experience. It was inspiring to see children of all ages engaged in the therapeutic benefits that a few hours of crafting brings", said CHA Vice President of Marketing, Maureen Walsh "We were fortunate to receive a generous product donation from Michaels Stores and assistance from representatives of The Rit Studio and Craft Attitude joined us to make this day of celebrating creativity a success. We look forward to many more events".
Bradley Hospital, licensed by the Department of Children, Youth and Families, provides a range of family-focused, high-quality mental health care to infants, children, adolescents and young adults with emotional disorders and/or developmental disabilities.
The event consisted of mixed media crafting activities with products supplied by The Rit Studio, Michaels Stores and Craft Attitude. The projects were led by CHA Staff and craft specialists from The Rit Studio: Rebecca Fretty, Jasmin Chang and Ruth Gallogly and Andrea Atwater, representing Craft Attitude.
About The Craft & Hobby Association
The Craft & Hobby Association (CHA) is an international nonprofit trade association consisting of thousands of member companies engaged in the design, manufacture, distribution and retail sales of products worldwide in the craft and hobby industry. For more information about CHA, membership or its award-winning CHA Conference and Trade Show, visit http://www.craftandhobby.org.
About The CHA Foundation
The CHA Foundation is the philanthropic arm of the Craft & Hobby Association, promoting and encouraging creative pursuits in schools, therapy programs, or in the home. Countless studies have shown that creativity enhances lives, promotes healing, and assists in learning. The CHA Foundation supports programs that promote creativity already in place and spearheads new programs to champion creative pursuits.